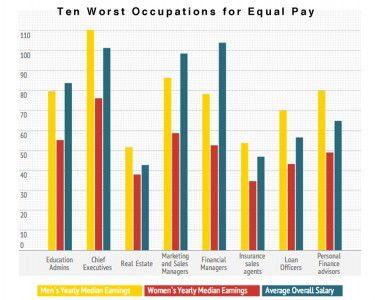 Higher paying jobs boast larger gender pay gaps than less profitable jobs, even among professionals with post-secondary degrees from colleges such as Boston University, according to a NerdScholar study published March 26.
"I wouldn't say higher education is not successfully closing the gap, but rather that in spite of a higher education, the pay gap still exists," said NerdScholar Strategy Analyst Rachel Ny, the study's author.
Women are more willing to take on debt for higher education degrees only to face larger pay gaps at the top, according to the study.
In 2010, 2 million women earned degrees compared to 1.3 million men, but in that year, women earned an average 82 percent of what men did.
Ny said while there is debate as to why the gender wage gap appears wider in high-paying jobs, the gap may have to do with different character traits between the sexes.
"Studies have shown that males are more likely to negotiate their initial salary," Ny said. "… The same studies have shown that men are more likely to pursue raises than females."
As chief executives, women earn an average $76,128 as opposed their male counterparts, who, in the same position, would earn $110,344, the study stated.
"Women often have to take maternity leaves and take a leave of absence from work to care for her child," Ny said. "This can disrupt her work and chances to move up the ladder … The jobs with the widest wage gaps may be set up such that these particular disadvantages are far more apparent."
BU women's, gender and sexuality professor Carrie Preston said there are discrepancies at the top that cannot be explained by differences in grades or course selection in college.
"In many courses … We talk about the wage gap — we discuss some steps women can take, including not being afraid to ask for a raise, talk about their wages and assert their value on the job," Preston said. "But I believe that gender bias is largely responsible for the wage gap."
She said while women in lower paying jobs are statistically are less affected by this wage discrepancy, those women still feel significant effects.
"When dealing with lower paying jobs, women's salaries as a percentage of men's salaries tend to be less dramatic," she said. "That doesn't mean that the discrepancy in wages isn't affecting women in lower paying jobs very dramatically."
Preston said the gender gap issue is present even at BU.
"BU has publicly recognized that there is a pay gap between men and women faculty, with women making less than men at all ranks," she said. "BU is working to change this, but it takes a long time."
BU spokesman Colin Riley said pay inequality is an important issue to BU officials.
"The administration is aware of this issue not only on the faculty side, but on the administrative side as well," he said. "It's hard to approach."
Despite the wage gap, Ny said female graduates should stay optimistic about the value of higher education.
"A college degree confers many advantages and opens doors to pursue a career of your choice," Ny said. "The idea that there could possibly be a pay gap should not discourage anyone from putting their best foot forward after graduation."