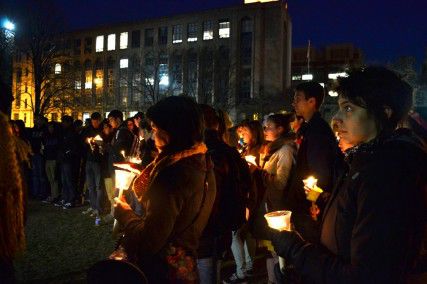 Monday marked the kickoff of Boston University Center for Gender, Sexuality and Activism's first ever Sexual Assault Awareness Week, designed to open dialogue on sexual assault concerns and to make students aware of available tools, officials said.
"In general, sexual assault isn't something that is talked about in the public sphere a lot," said Chelsea Schwalm, CGSA health resources coordinator and organizer of the week. "This is something that is taking it a step further to really delve into more complicated issues in sexual assault that maybe haven't been addressed in past years."
Schwalm, a College of Arts and Sciences junior, said the week includes nightly presentations hosted by representatives of various participating organizations, including BU's Sexual Assault Response and Prevention Center, the Feminist Collective and the Queer Activist Collective.
"The thing that should be remembered is that everyone feels differently and wants to talk about this topic in different ways, so it's really important to have different resources for people," Schwalm said.
The week will culminate with Take Back the Night on Friday at 5 p.m. at Marsh Plaza. Take Back the Night first came to BU in March 2012 after a series of reports of sexual assault on or around campus.
"It's a survivor-centric event that we also have open to the community, open to the public, for people to come hear stories of survivors talking about experiences of sexual assault and to have a group cathartic experience to take back the streets," Schwalm said.
Other presentations scheduled for the week include an Anti-Street Harassment Workshop and Chalk Walk presented by Hollaback! Boston, a "Queer Survivorship" Panel on Sexual Assault for the LGBTQIA community and a presentation on "Social Media, Video, and Technology Related Sexual Misconduct."
"A lot of the activities are to help people that have been impacted by sexual assault in some way to not feel so isolated," said SARP Director Maureen Mahoney.
Mahoney said organizers intend for the week both to address culture surrounding sexual assault and to inform students of available sexual assault response resources.
"One [goal] is to bring awareness of the culture that can promote sexual assault," she said. "Also, to offer people who have been impacted by sexual assault in any way different ways of getting support, raising awareness and participating."
KC Mackey, a member of the Feminist Collective, said organizers intend to open dialogue about culture that makes sexual assault seem a common occurrence and that allows society to equate sex with violence.
"Rape culture is what allows sexual assault to happen so often and be so normalized," Mackey, a CAS senior, said. "We all live in a culture where violence is sexualized and sex is made violent."
Mackey said she hopes the week will also encourage people to talk about what is causing rape instead of just talking about how people can protect themselves.
"The root of the issue is not that people are unable to protect themselves but that people are raping in the first place," she said. "When I say rape culture, I'm not talking about some separate culture — I mean our American culture is a rape culture."
Schwalm said there are multiple ways in which society deals with sexual assault, but it is important to remember that sexual assault is a community-wide issue.
"It's really important to have resources for survivors — and that's the first and foremost most important part of conversation about sexual assault," she said. "It's also a community issue that everyone takes part in, that everyone should be involved in and learn more about."
Schwalm said each of the week's workshops serves a unique purpose and all students are encouraged to attend.
"They're not exclusive events," she said. "They will make people come and join the conversation and give us their thoughts to what their exposure has been to these issues."