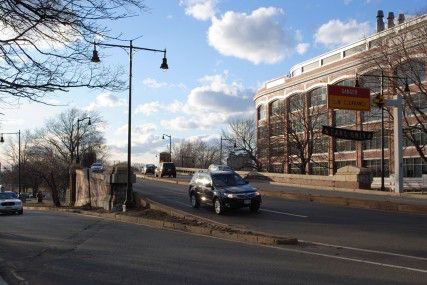 Due to structural deficiencies, the William J. Reid Overpass in Cambridge will close for six months for repairs starting April 7.
The overpass, which brings Memorial Drive over the rotary at the Boston University Bridge in Cambridge, will close to vehicles, cyclists and pedestrians in both directions, according to a press release from the Massachusetts Department of Transportation.
Preliminary work for the repair project began Sunday and included the installation of advanced warning signs announcing the closing, according a press release Friday.
Sara Lavoie, press secretary for MassDOT, said authorities discovered structural issues in the bridge during routine inspections.
"We are dealing with aging infrastructure in Massachusetts," she said in an email. "The transportation finance plan announced earlier this year, if approved by the legislature, would invest $400 million to preserve our highway facilities and $1.175 billion for bridge projects over the next 10 years."
Mass. Gov. Patrick Deval released this framework, entitled the 21st Century Transportation Plan, on Jan. 13. In it he called for the disbursement of $13.7 billion to various transportations projects throughout the Commonwealth.
"The goal would be to bring all roadway assets up to a state of good repair to avoid the inconvenience that these types of closures cause to the public in the future," Lavoie said.
DOT plans to reroute traffic to surface roadways and through the BU Bridge and Brookline Street rotary and back to Memorial Drive, according to the release.
Some residents who use the overpass said the closure would significantly affect their travel plans each day.
LiLi Henderson, a sophomore in the College of Arts and Sciences at BU, said she uses the road to get to her volunteer site.
"I tutor someone in Central Square and the bus that comes down is always packed so I walk across the bridge to get there because it's easier," she said.
Henderson said she would now have to come up with alternative travel plans to get to her destination.
"I don't know how I'm going to get there anymore," she said. "Maybe I'll just take the T, which will cost more. If not, I guess I'll have to walk a bit farther and use the bridge on the other side when I try to get to Cambridge."
Matthew Lenhart, a junior in the College of Arts and sciences, said he would need to leave earlier to get to crew practice on time when the overpass is closed.
"I won't be able to go to practice as easily. I would have to walk over to Longfellow Bridge, which would add at least 25 to 30 minutes if I walk everyday," he said.
Lenhart said the closing would impact the whole community and disrupt the flow of traffic.
"It [the closing] would have a large impact on people in this area," he said. "I walk across at least twice a day and there's always cars going across it. I've never seen it without a decent amount of traffic on it."
Russell Drew, resident of Cambridge and management worker, said the project would exacerbate bad traffic throughout the city.
"I'm going to have to go up more toward Central Square and take public transportation," he said. "It seems like it's going to negatively impact the people that live around this area. Being closed for six months will just screw everyone over, and that sucks for everyone, because then it'll make more congestion in other places."
Clinton Nguyen and Gina Choi contributed to the reporting of this article.