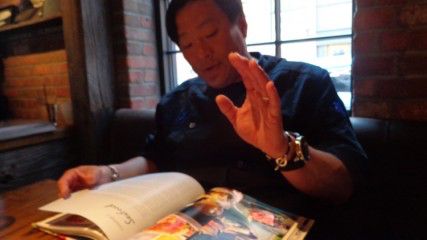 Ming Tsai has a lot of friends, but he doesn't know all of them.
In the crowded dining room of his new "Asian-fusion gastropub," Tsai leans back in his chair at the chef's table, sifts through piles of paperwork with a crumpled brow, checks his ornate silver watch and asks about The Daily Free Press's circulation when two 30-somethings in suits comes up and interrupt us. It's the first interruption of five in our 30-minute interview.
"Fantastic restaurant, man!" they call from behind the hostess's station.
"Thanks, guys. Come back for dinner! Tonight!" he cries with a smile.
People come to shake his hands, pass him business cards, and pat him on the back as if they've been close for years. Each time, Tsai offers some upbeat words before they leave. When they leave, he tosses the business cards in the pile and gets right back to business.
"People always stop me on the street, come up to me like an ex-lover or an old friend or someone I knew or dated, because they've been watching me on TV for 15 years. They feel like they know me." Tsai recounted. "But don't be offended if I don't recognize you on the street. I know a lot of people, but that doesn't make me a better chef."
Tsai developed his status as a household name 15 years ago as a young chef opening up an East-Meets-West fine-dining restaurant in Wellesley called Blue Ginger. That same year, he won an Emmy for his former Food Network show, East Meets West with Chef Ming Tsai. In 2002, Blue Ginger won the James Beard Award for Best Chef: Northeast, and he started running his third show, Simply Ming.
Years later, Tsai is still busy. Last year, he celebrated the 10th season of Simply Ming by receiving a nomination for yet another James Beard, this time in food television. He also published his third cookbook Simply Ming in Your Kitchen last year, which includes QR codes to upload shopping lists and tutorial videos straight to your phone. Finally, to finish up his latest burst of activity, Ming opened Blue Dragon in the emerging Fort Point district of Boston two months ago, which is his second restaurant and first casual-dining interpretation of East-meets-West cuisine.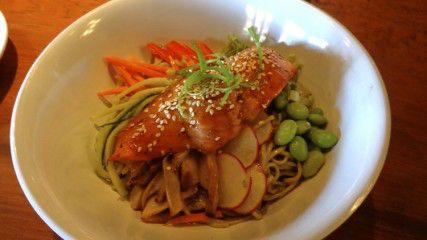 "It's cool to be in the city," Tsai said. "It's cool to have such a young clientele who are so food knowledgeable and conscious and sustainable."
The lunch menu favors sandwiches and salads, including western twists on Vietnamese Banh Mi and Asian influences on traditional hamburgers. The dinner menu, on the other hand, features fusion comfort foods and smaller dim sum/tapa-style dishes for between $5-15.
"Sure we have a Shepard's pie, but we also have braised pig's tail and octopus," Tsai said.  "Plus, that Shepard's pie is made with Indonesian curried lamb."
Unlike his first restaurant, Blue Dragon presents itself as affordable and fun. Bar-height tables allow 20-somethings to drink and talk as Tsai mingles with the crowd on Friday nights. Patrons pop shumai and escargot into their mouths near a crowded bar and a small waterfall. And in case the gastropub vibe was lost among the youthful energy, a bar looks out onto the abandoned streets of Fort Point late at night.
"BU students love to have fun. They want a casual atmosphere with cool music, and not a lot of them are multi-millionaries," Tsai said. "This is the kind of place for them." Maybe soon enough, he'll start making some friends at BU as well.