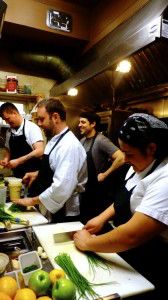 Often referred to as "the Oscars of the food world," the James Beard Awards celebrate professionals throughout the culinary arts. This year, three Boston-based chefs received nominations for the 'Best Chef: Northeast' award. Don't forget to tell MUSE which chef you think should win, and in the meantime, here's the first of MUSE's three-part series profiling the three chefs:
Chef Barry Maiden got the idea while making biscuits for his Cambridge restaurant Hungry Mother. He had studied how Southern, Appalachian and Midwestern households made their biscuits fluffy yet sturdy, read countless recipes and designed his first batch — but he didn't know how long to beat his biscuits. However, Chef Linton Hopkins, of the celebrated Atlanta restaurant Holeman and Finch, did.
So Maiden sent Hopkins a text from his small restaurant's kitchen: "How long do you beat your biscuits?"
"Well," Hopkins replied, "That's sort of a personal question."
This style of rapport is not unusual between Maiden and his fellow chefs, he said. He and his friends from the New England Culinary Institute still keep in touch, years and countless reviews after graduation. And after five years together, he and his team members at Hungry Mother are not just colleagues, but friends.
Maiden opened his Appalachian-meets-French restaurant in 2008 with his former team members from the French restaurant Sel de la Terre: John Kessen and husband-and-wife duo Alon and Rachel Miller Munzer. Hidden in the residential corner of Kendall Square in Cambridge (233 Cardinal Merdeiros Ave.), Hungry Mother has accumulated its fair share of critical acclaim since opening its doors. Maiden won one of Food and Wine's Best New Chefs awards one year after the restaurant opened and Boston Magazine, The Washington Post and Boston.com have all featured Hungry Mother and Maiden at least once since its inception.
This past year, Maiden was nominated for the James Beard Award for 'Best Chef: Northeast' in March — his first nomination for the award — alongside Flour's Joanne Chang and Coppa's Jamie Bissonnette.
Maiden hardly expected a nomination this year.
"I had sort of written it off, actually," he said. "We do what we do here, and if we would be nominated it would be because of what we do. There's no kissy-kissy sucking up to anybody."
Yet he did watch the live stream of the nominations with his family — and jumped for joy with his son when his name was called with the other four nominees.
When I went to speak with Maiden at his restaurant two weeks after his James Beard nomination, I got a bit lost. Hungry Mother hides in residential Cambridge, discernable only by a small sign hanging from a corner door. Not sure how to enter during non-business hours, I peaked my head in the kitchen between a produce supplier's dolly and a chef's apron — and saw a dark bar room, tall bar stools, framed floral prints and a woman, sitting alone at the hostess's desk, eating what appeared to be a big plate of ribs.
"You just missed lunch!" she cried from her perch. "Honey-barbecue ribs, black-eyed peas, cornbread muffins — would you like some?"
She made me a plate of peas and a latte and set up a space in the brightly lit dining room.
Maiden was in his whites when he came to meet us, but his Appalachian background revealed itself gradually — in the occasionally molasses-drenched words he drawled, of course, but more obviously in his subtle humility.
Maiden grew up in southwest Virginia with his mother. A picky eater, he began cooking with his grandmother recreationally, and then out of necessity at a Shoney's (a Southern family restaurant chain) when he was fifteen. He then moved to the Martha Washington Inn, where he grew to love the culinary arts.
"That was my first experience with fine dining," Maiden recalled. "They're cutting filet mignon and twice-baked potatoes and they're making these pan sauces, like flambés, white wine, mushrooms, all these things, these moving parts — I was fascinated by it. But I was at the sink peelin' shrimp."
He didn't stay long, however. After watching his coworkers, learning how to cut a filet mignon and flambé with the rest, he moved to Nashville to cook with the renowned French chef Emile Labrousse at Magnolia's in the neighboring Franklin, Tenn. Labrousse encouraged Maiden to apply to culinary school, and used his connections to the New England Culinary Institute ("Neckie," as he called it) in Vermont to help Maiden leave the South and study classical French technique with the greats.
After a few years working at L'Espalier, one of Boston's most celebrated French restaurants, (following a kitchen trial he called "the most gut-wrenching thing I have ever done,") Maiden moved to L'Espalier's sister restaurant, Sel de la Terre, and met and worked with the friends he now works with at Hungry Mother.
Getting from Sel de la Terre to Hungry Maiden, however, involved obtaining and losing a Chef de Cuisine job at Lumière in Newton, a period of self-reflection and doubt, and the ultimate intervention of his friends, who approached him with plans to open a new restaurant. One battle with a neighborhood association and a short trip to North Carolina later, the four opened Hungry Mother to stand alongside some of Boston's great restaurants.
With the new restaurant came a new consideration of his roots, Maiden said.
"When I went to culinary school, I never wanted to touch a Southern ingredient again," he said. "But people always told me, 'there's something missing from your food.' They'd ask me where I was from, check my nametag, which said Tennessee, and say, 'Well, that's it. You're from the South! You're missing from your food."
No one would think so now. Hungry Mother's cuisine is distinctly Appalachian, but has a European twist that respects both his French training and Boston's seafood legacy.
"[Hungry Mother] is heavily southern influenced, but not every dish screams 'South' at you," Maiden said. "It's French and Southern at its core."
Hungry Mother's menu showcases Maiden's industrious spirit and his thirst for knowledge and culinary identity. Consider his catfish étouffée. An étouffée — which translates to "smothered" in French — is a Cajun rice dish made with shellfish and, on occasion, catfish. It's spicy, smothered in gravy, and generally served hot.
When Maiden decided to put a catfish étouffée on his menu, he researched hundreds of different ways to make étouffée. He read cookbooks from around the country, exploring the history of étouffée and its modern adaptations. He investigated and chose ingredients, looking for regionally sourced and sustainable produce, grains, and fish, (settling upon rice from North Carolina, crawfish from Louisiana, etc.). He started squeezing the head fat from the crawfish to use for the gravy's roux and used the bodies for the stock. The head fat in crawfish, when cooked, transforms into an offal-seafood-scented liquid butter. By adding it to the roux, the flavor of the crawfish laces its way through the entire dish.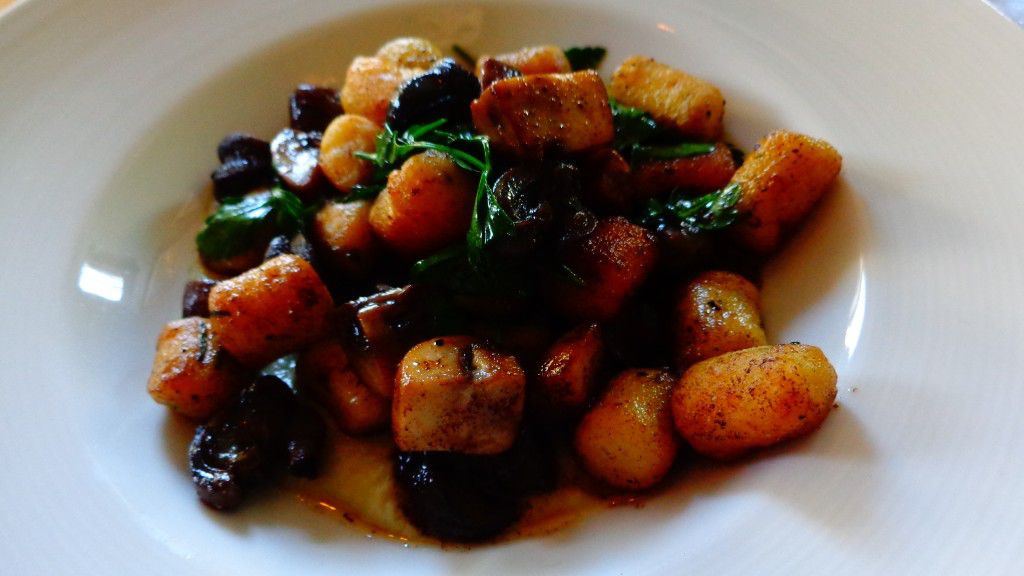 When a Louisiana-born woman walked in to Hungry Mother and tasted Maiden's étouffée, she was in tears, he said.
"She was just overwhelmed," he said. "Being able to walk into a restaurant in the middle of Cambridge and have an étouffée that tasted like the ones she ate at home."
It's no surprise it had the effect it did — as a Southern dish with French influences, an étouffée was the perfect dish for the Virginian chef with French training to cook.
"I just try to cook with authenticity. I think it's that we took the extra time, harvested out that head fat and took the extra time to make it as authentic as possible. If we had made that sauce without the head fat, would she have been as floored? Maybe not."
Maiden can tell you how okra made its way into the South. He has read about and studied the African influences within Southern cooking. He scrolls through the Southern Foodways Alliance page as often as he can, searching for more information about the dishes he makes. And when he doesn't read about it, he's not afraid to talk to one of his many friends about how to make his adaption better, from the Louisianan chef in his kitchen to the biscuit-beating chef in Atlanta.
"I always felt the need to learn. I didn't go to a university or college, so self-teaching is what I have," Maiden said. "I'm always hungry for knowledge. The way my brain works, I'm always brainstorming, looking up recipes — I want to know how ten different people make the same dish."
But alongside this ambitious, impassioned chef is a humble, friendly man who makes friends with everyone he can, from the chefs with which he worked over the years to his fellow nominees for Best Chef: Northeast.
"Barry is one of my number-one homies," award nominee Jamie Bissonnette of Coppa said of Maiden. Maiden said he often gets beers with Bissonnette just to chat, but he sends him a text message now and then, just like the ones he sends to his friends in Atlanta.
"When the results came out, I got a text from Barry that said, 'New York, mother******!'" Bissonnette recounted. "And I responded, 'We're gonna get white-boy drunk.'"
Whatever happens at the James Beard awards, white-boy drunk status aside, we can rest assured Maiden made it there honestly, with no "kissy-kissy sucking up to anybody," but maybe with a few text messages along the way.