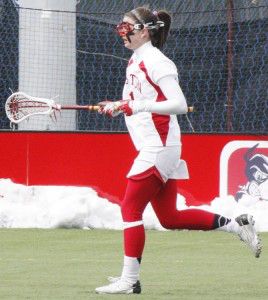 While they may have been more than 177 miles from Boston, the members of the Boston University women's lacrosse team was affected nevertheless by the 2013 Boston Marathon bombings and the subsequent citywide manhunt that occurred Friday.
On account of these events, the Terriers' (5-8, 2-4 America East) game against No. 10 Stony Brook University, which was originally scheduled Saturday, was postponed and moved to Sunday night at LaValle Stadium in Stony Brook, N.Y.
The call to push the game back was a joint decision made by both universities and the America East Conference.
BU coach Liz Robertshaw said player safety was ultimately the main reason for postponement.
"A lot of it stemmed from the fact that the governor asked for people to stay at home … and we just felt that from a respect standpoint, as well as a safety standpoint, we should make sure that we were honoring that," Robertshaw said.
Robertshaw said the decision was difficult to make.
"I know that we wanted to get down there and play, but it was also the right decision from the university to make sure that we helped in any way we could and kept our players safe, which is the number-one priority," she said.
The Terriers ultimately fell to the Seawolves (13-2, 5-0 America East) Sunday night by a score of 18-11.
BU wraps up conference play
Sunday's game against Stony Brook was important not only because it was a matchup against a top-ranked opponent, but also because it marked the final America East Conference game for BU, which will officially move to the Patriot League July 1.
While the Terriers may have struggled this season against America East opponents, finishing the year with a 2-4 conference record, BU has been one of the premier teams in the conference over the last 15 years, winning six of the last eight America East Tournaments.
While she said she is excited to join the Patriot League next season, Robertshaw said moving on from America East will be a tough adjustment.
"We're all excited to move on into the Patriot League and see what things can happen there, and see what the schedule is going to bring," Robertshaw said. "I do think that we're going to miss some of these teams. We're going to keep [the University of New Hampshire] on the schedule, but other than that, it doesn't look like we're going to keep anyone else.
Robertshaw said she and her players have wholeheartedly enjoyed playingamong America East competition.
"It's hard, because I really enjoyed the America East," she said. "I think that it was a good conference for us, it had some great New England rivalries, and I just feel that it's going to be interesting to see what the next chapter is going to be."
Terriers face tough final stretch
While the conference portion of their schedule may be over, the Terriers still have a grueling final stretch to the regular season.
For its final three games of the year, BU will face off against Yale University, No. 20 Cornell University, and No. 9 Duke University, all of which are on the road.
These games will be a challenge for BU both due to the skill of its opponents and because the Terriers have struggled on the road all season. While they amassed a respectable 4-3 record at home this year, they are a lackluster 1-5 away from Nickerson Field.
For Robertshaw, the biggest key to capitalizing on these final matchups lies in the players dictating how they want to conclude their season.
"We have to keep getting better," Robertshaw said. "I told the team in practice that … 'you have the opportunity to end the season on your terms. So, how do you want to go out?' A lot of [those players] took it to heart … There's going to be challenges. There's no way that we're walking into these next three games thinking that it's three wins. We know that we have to fight."