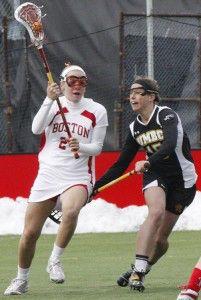 Following an 18-11 loss to No. 10 Stony Brook University Sunday afternoon, the Boston University women's lacrosse team will look to snap its two-game losing streak when it takes on Yale University Wednesday evening in New Haven, Conn.
The Terriers (5-8, 2-4 America East), who dropped the first two games of a season-completing five-game road trip, will have a tough test in Yale (7-6), which possesses a potent offense that has averaged 11 goals per game this season.
"Yale is an aggressive attacking team," said BU coach Liz Robertshaw. "Defensively, we have to make stops — we have to make stands against them — and that's something that we're going to work on.
"From our standpoint, we also know that defensively, they're pretty aggressive … so we need to bring our attacking game. We need to elevate it and really get after this team."
While Yale currently stands one game over .500 on the year, the Bulldogs, like the Terriers, have struggled in conference play this season with a 1-5 record.
One of the key reasons for the Bulldogs' struggles this season lies in their defense, as Yale is currently sixth among Ivy League teams with an 11.00 goals-against average.
Despite its defensive shortcomings, Yale features an imposing offensive unit, led by senior Devon Rhodes and freshman Nicole Danigellis.
"[Yale] has gotten some great plays from Devon Rhodes and Nicole Danigellis," Robertshaw said. "These two players are six feet tall, they are strong, left- and right-handed, and they are taking it to a lot of teams. They're leading their team in scoring."
Both Rhodes and Danigellis lead the Bulldogs with 31 goals apiece, with Danigellis playing in two fewer games than her senior teammate. Danigellis is currently third in the Ivy League in goals per game (2.82), while Rhodes is ranked fourth in the conference in points per game (3.46). Rhodes leads Yale in points this season with 48 in 13 games.
Yale goalkeeper Erin McMullan has played every minute this season for the Bulldogs, recording 91 saves and boasting a .389 save percentage.
One of Yale's biggest strengths this year has been its dominance of controlling the draw. The Bulldogs are 16th in the nation in draw controls per game (13.69), controlling a total of 178.
The Terriers have also been solid on draw controls this season, as they are third in America East in draw controls per game (12.15). In 13 games, BU has controlled 158 draws.
Looking at the game at hand, Robertshaw said she believes that controlling the draw and keeping possession will be crucial against the Bulldogs.
"The draw controls are going to be huge," Robertshaw said. "Yale has traditionally won the draw controls this season against other opponents and we have to combat that and get after it.
After two straight wins against the University of Vermont and Binghamton University in which the Terriers put up at least 20 goals in each contest, it appeared as if BU had finally erased its early season struggles and was poised to make some noise as the season reached its final stretch.
Unfortunately for the Terriers, they could not maintain their hot scoring streak, dropping their next two games against the University of New Hampshire and Stony Brook (13-2, 5-0 America East) to conclude their final season in the America East.
Senior attack Kristen Mogavero has been one of the few bright spots during BU's recent skid, as she recorded six goals over the past two games. Mogavero is second on the team in goals with 31, only trailing senior attack Danielle Etrasco, who has found the back of the net 48 times this season.
Freshman midfielder Jill Horka has also excelled for the Terriers over the past few games, as she has notched three goals in as many outings. Horka is tied for fifth on the team in goals scored with seven on the year. Her classmate, midfielder Sofia Robins, also added two goals against Stony Brook.
In the cage, junior goalkeeper Christina Sheridan has put together a solid campaign for the Terriers, recording 116 saves and possessing a .428 save percentage.
The last time the Terriers and Bulldogs faced off was March 21, 2012, when BU defeated Yale by a score of 13-8, thanks to three-goal games from sophomore attack Mallory Collins and then-senior attack Molly Swain.
This upcoming match marks the 17th meeting between the teams, with Yale leading the all-time series by an 11-5 advantage.
However, under Robertshaw, the Terriers have fared well against the Bulldogs, winning four of their six contests.
For Robertshaw, the biggest key to a BU victory Wednesday lies in the team putting together a total team effort for the entire game.
"It's bringing the fight to every single play and every single moment," Robertshaw said. "When we do that, we have actually put together some really nice combinations of games, but it's something that's been too inconsistent.
"We need to go out for 60 minutes and be proactive and aggressive and go play our style of lacrosse on the defensive end, the attacking end and, most importantly, on the draw control. If we can get Yale on their heels, we can have a good day."