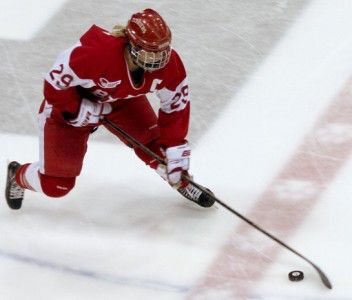 Competing at the MAAC Championship at Disney's Palm Golf Course in Lake Buena Vista, Fla., over the weekend, the Boston University women's golf team finished in second place.
The Terriers concluded the three-day tournament with a total of 969 points, 48 shots better than last year's total.
Sophomore Kristyna Pavlickova finished five strokes behind the winner with a total of 228 (75-73-80), which put her in third place.
Freshman Maddy Silverman improved each day to place ninth with a three-day total of 246 (84-82-80).
Fellow freshman Emily Tillo tied for 12th place, also improving each day, with a final tally of 249 (87-82-79). She was the only player to break a total of 80 on the final day.
Sophomore Flor Canedo finished 14th with a total of 251 (83-87-81). Junior Christine Silen tied for 19th with 259 (85-84-90).
BU was the only team besides Butler University to have all five players finish in the top 20.
This weekend concluded the best season in program history for BU. During the 2012-13 season, BU won three titles, including the ECAC Championship in September.
Women's rowing excels at Beanpot Regatta
Attempting to continue its success after the varsity eight and second varsity eight boats both came out victorious Saturday, the BU women's rowing team came in second place in the Beanpot Regatta Varsity Eight race Sunday afternoon at the DeWolfe Boathouse.
The Terriers' varsity eight boat — with junior coxswain Sarah Specht and senior stroke Caroline Kimberly — fell by open water to the No. 7 joint team of Harvard
University and Radcliffe College. However, BU completed the race ahead of College of the Holy Cross, Boston College, Northeastern University and the Massachusetts Institute of Technology.
BU's second varsity eight boat did not fare quite as well, as it finished third in its race. Coxed by sophomore Eline Vermeulen and stroked by freshman Emily Lerhe, the Terriers finished behind Radcliffe-Harvard and Northeastern, but defeated BC, Holy Cross and MIT.
The rowing team had three other races on the day. In the Varsity Four race, BU finished second. The Third Varsity Eight and Second Varsity Four races did not yield as much success, as the 3V8 boat placed fifth and the 2V4 boat finished fourth.
The Terriers now say goodbye to their home turf, as the Beanpot Regatta was their final home event of the year. BU's next meet is in Collingswood, N.J., where it will compete in the Eastern Sprints May 5.
Women's hockey members centralized with Canadian National Team
Hockey Canada announced Thursday that five members of the BU women's hockey family have been named to the Canadian National Women's Team preliminary roster for 2013-14 to prepare for the 2014 Olympic Winter Games.
Junior co-captain Marie-Philip Poulin, senior forward Jenelle Kohanchuk and former Terriers Jenn Wakefield, Catherine Ward and Tara Watchorn join the 27-player roster. They will travel to Calgary, Alberta, in May for fitness testing and will begin training full-time in August.
The final roster that will travel to the Olympics in Sochi, Russia, will be determined in late December.
Poulin, Wakefield and Ward have competed at the international level together before, most recently at the 2013 IIHF Ice Hockey Women's World Championship earlier in April.
During that competition, Poulin was named most valuable player after tallying 12 points on six goals and six assists. Wakefield had eight points (four goals, four assists), and Ward led all defensemen in points with one goal and six assists.
In her time at BU, Watchorn became the highest-scoring defenseman in program history with 21 goals and 63 assists in her career.
Kohanchuk finished her run at BU with career highs in goals (25) and points (46) during the 2012-13 season, bringing her career total to 138 points (66 goals, 72 assists).