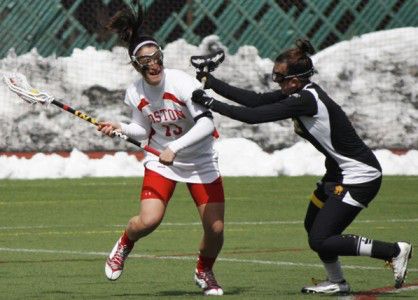 Coming off a hard-fought 18-17 loss to Cornell University, the Boston University women's lacrosse team will look to finish its season on a high note when the team takes on No. 7 Duke University in its final regular-season game Sunday afternoon in Durham, N.C.
The Terriers (6-9, 2-4 America East) have had an up-and-down season in their final year in America East, and will need to give their best effort to take down the Blue Devils (11-4), one of the best teams in the country.
"I expect to see a top-five team," said BU coach Liz Robertshaw. "They have a bench full of All-Americans … We have to go in there and play a fearless game and be aggressive — take them to cage and really try to limit their scoring looks.
"They have some players out there that are getting it done … and doing very well, and we have to do a better job defensively."
The Blue Devils have had another successful campaign on the field, as they have held on to a top-10 ranking for the entire season.
Ranked fourth in a stacked Atlantic Coast Conference that features other powerhouses such as No. 1 University of Maryland and No. 3 University of North Carolina at Chapel Hill, the Blue Devils already participated in the ACC Championship, in which they fell in quarterfinal play to No. 19 University of Virginia.
The Blue Devils possess an impressive offensive unit, as they average 12.56 goals per game, the 22nd highest scoring offense in the country. Duke's offense is led by attacks Kerrin Maurer and Makenzie Hommel, who lead the team with 55 and 54 points, respectively.
Hommel has been the top goal-scorer for the Blue Devils this season with 44 tallies in 16 games. She is fourth in the ACC in goals per game (2.75). While Maurer may only have 28 goals, she has also recorded 27 assists on the season, and is one of the main reasons why the Blue Devils are currently second in the ACC in assists per game (4.75).
One of the biggest reasons for Duke's success this season is the great play of its goalkeeper, Kelsey Duryea.
Duryea is first in the ACC in saves per game (9.25), second in goals-against average (9.14), and first in save percentage (.512).
The Terriers, after taking down Yale University early last week, were unable to replicate their success against Cornell (10-5) Saturday, as they fell to the Big Red despite 12 combined points from senior attack Danielle Etrasco and senior midfielder Kristen Mogavero.
The Terriers have struggled on the road this year, as they have a lackluster 2-6 record away from Nickerson Field.
The last time the Terriers faced off against the Blue Devils was March 10, 2010, when then-No. 5/6 Duke defeated then-No. 7/9 BU by a score of 10-6. The Terriers held the Blue Devils to just two second-half goals in the matchup.
Despite the Blue Devils' high ranking, the Terriers have had previous success against ranked teams this season, as they defeated No. 12/14 University of Massachusetts 9-8 Feb. 27 and No. 15 Ohio State University by a score of 16-11 March 16.
For Robertshaw, the biggest key to a Terrier victory Sunday lies in the team giving its biggest effort in its final match of the season.
"[The biggest key is] going out and putting everything out on the field," Robertshaw said. "It's our last game of the season, it's the last game that Danielle Etrasco and Kristen Mogavero are going to play for BU, and the last game that all of our players are going to play with those two.
"So if we can put it all out there and play fearless … I think we can have a great game."