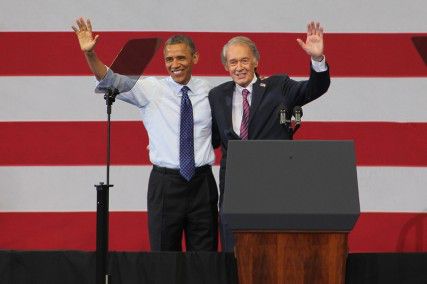 With more than 7,000 people in attendance, U.S. President Barack Obama endorsed Democratic candidate Ed Markey before the June 25 special election to fill Secretary of State John Kerry's vacant U.S. Senate seat.
U.S. President Barack Obama and Democratic Senate candidate Ed Markey wave to the crowd at Markey's rally Wednesday afternoon.[/caption]Boston Mayor Thomas Menino, who endorsed Markey on May 24, said Markey would help advocate certain policies of the Obama administration, including healthcare reform, stricter gun control and alternative energy research.
"If you believe that assault weapons … have no place in our society, if you believe what a good man told me — that healthcare is a right, and not a privilege — Ed Markey stands for the type of country I want to live in," Menino said. "I'm very proud this afternoon to stand with him."
Some groups were standing outside the rally at the Reggie Lewis Track and Athletic Center in Roxbury Crossing to protest the recent NSA surveillance scandal, but most were muffled by applause when Menino took to the podium in crutches to speak.
Markey then took to the podium to thank Menino and to introduce Obama and thank him for his actions in office.
"President Obama helps us lift our gaze to the constellation of possibilities for our country and our world," he said.
Obama took the stage to several minutes of applause. He said he hopes to work with Markey, as the Senate candidate agrees with Obama on several key pieces of legislation.
"I've got to have folks in the United States Senate who are willing to stand up for working people just like I have," he said. "That's who Ed Markey is."
Markey's projected lead from initial ballot tests has decreased from 17 percent to 7 percent, according to a Suffolk University poll released Monday.
Supporters for Republican candidate Gabriel Gomez gathered at Veterans Town Hall in Chelsea on Wednesday.
Gomez said in the spirit of bipartisanship, he invited Obama to attend his meeting.
"I know that you are here to support my opponent, Congressman Ed Markey," he said in a statement on Wednesday. "However, should I be fortunate enough to be elected as the next Senator from Massachusetts, I look forward to working with you to represent all the people of Massachusetts."
Before delving into his speech to endorse Markey, Obama shared the story of his unscheduled trip with Menino and Mass. Gov. Deval Patrick to Charlie's Sandwich Shop in the South End earlier Wednesday, where he said he spoke with a nurse he met after the Boston Marathon bombings.
Obama said after he placed his order, he told everyone in the restaurant to vote in the June 25 election, as Democratic support is still required.
"We've got a whole of Democrats in this state and a whole lot of Obama-voters," he said. "You can't think, 'Oh, I did my work in 2012.' You've got some work to do right now in 2013."
Sarah Siegel contributed to the reporting of this article.