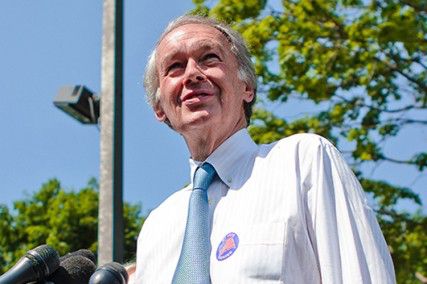 Democrat Ed Markey edged out Republican candidate Gabriel Gomez on Tuesday to win the special election to fill Secretary of State John Kerry's former U.S. Senate seat for Massachusetts.
Markey gathered 642,988 votes and 54.8 percent of the vote to defeat Gomez, who received 525,080 votes and 44.8 percent of the vote. Richard Heos, candidate for the Twelve Visions Party, was also on the ballot, and he received 4,518 votes and 0.4 percent of the vote, according to Massachusetts election statistics.
Markey will replace William 'Mo' Cowan, whom Mass. Gov. Deval Patrick appointed as an interim replacement for Kerry on Jan. 30.
Gomez, 47, former Navy SEAL and private equity investor, said Markey was a formidable opponent during the campaign.
"Sometimes you face an overpowering force," he said in his concession speech at the Seaport Boston Hotel. "I mean, we were massively overspent. We went up against literally the whole national Democratic party and all its allies."
Markey raised more than $7.6 million for his campaign including coming into the election with $3 million and has spent more than $4.6 million. Gomez has raised $2.3 million for the election and spent about $1.6 million.
"I offer absolutely no excuse for coming up short," Gomez said. "I'm proud to be an American, and tonight, even in defeat, I've never been prouder to be a citizen of the Commonwealth of Massachusetts."
The National Republican Senatorial Committee said in a statement on Tuesday that Gomez should consider another run for the seat in Nov. 2014 when Markey's term is up.
"Gabriel Gomez is well prepared to win that marathon over the next 16 months," the NRSC said.
Markey said he will go to Washington D.C. as a voice for the people he is representing.
"I do not go to occupy a seat in the Senate," he said in his victory speech at the Boston Park Plaza Hotel. "I go there to stand for you, to speak for you. This is your seat in the United States Senate."
He said he is willing to reach across party lines to get laws and bills passed.
"I am going to the U.S. Senate to build a bold and bright future filled with optimism and opportunity for every family in the state of Massachusetts and across out great country," he said. "I will seek consensus wherever possible. Like you, I am tired of gridlock. But I will never compromise on our principles."
U.S. President Barack Obama said in a statement on Wednesday that he is eager to work with him during his term as senator.
"He's earned a reputation as an effective, creative legislator, willing to partner with colleagues across the aisle to make progress on the issues that matter most," he said. "The people of Massachusetts can be proud that they have another strong leader fighting for them in the Senate, and people across the country will benefit from Ed's talent and integrity.
Samantha Hooper, press secretary for the Massachusetts Democratic Party, said Markey supports many of the issues Obama is trying to push.
"He is very aligned with Obama's agenda and, seeing that in 2012, Massachusetts overwhelmingly voted for President Obama, that shows that we're on the right sides of those issues," she said. "He [Markey] knows what's best for Massachusetts."
Hooper said the special election in 2010 to fill the vacant Senate seat after the death of Sen. Ted Kennedy prepared the Democratic Party for this election.
"We've learned our lesson from the Coakley-Brown election," she said. "This race was a lot more organized that that one and it clearly proved that way with the results tonight."