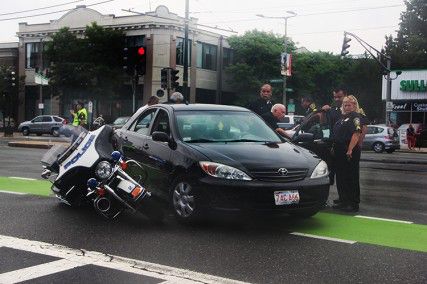 Two Boston University policemen on motorcycles were struck by a vehicle Sunday afternoon near West Campus on Commonwealth Avenue as hundreds of students poured into the area for move-in weekend, BU Police Department officials confirmed.
"Two Boston University motorcycle units were struck by a motor vehicle on Commonwealth Ave at Harry Agannis Way," said BUPD Sergeant Michelle Fotev.
She said the two officers were transported to a local hospital and they were released with minor injuries later that afternoon.
Fotev said Boston Police Department  officials are currently investigating the crash, which occurred around 2 p.m.
Chris Harris, a livery driver for Lifestyle Transportation, was parked on Commonwealth Avenue near Agganis Arena when the vehicles collided. He said was waiting outside for a family he had driven to Agganis Arena earlier when he saw the crash.
"Two police officers were back to back at a red light on Agganis Way," Harris, 30, said. "It turned green. There was a Camry that continued to make a U-turn after their light had turned red."
Harris described the vehicle as a black Camry driven by an elderly man. He also said there appeared to be a woman in the passenger seat. The vehicle paused midway through the U-turn from the side of Commonwealth Avenue toward downtown Boston to the side of Commonwealth Avenue toward Brookline.
"The police had the right of way, and the car continued to keep going and ended up hitting the front police officer," Harris said. "I'm unsure if the second police officer drove into the car or was hit as well, but I still know that he was hurt pretty badly."
Both of the police officers appeared to be injured, Harris said.
Harris said while he sympathizes for all those involved in the accident, he said the driver of the Camry was clearly at fault.
"It definitely wasn't the police officers' fault," he said. "I believe they [the passengers of the black Camry] were at fault. The police had the right of way."