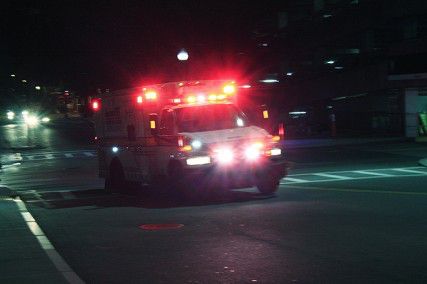 An unusually high number of Boston University students were transported to the hospital last week due to alcohol-related incidents, officials said.
BUPD Detective Lieutenant Peter DiDomenica said 13 students were transported to area hospitals this past weekend, the highest for a single weekend in several years.
"Hopefully it is not a trend," DiDomenica said. "If this pattern continues, it would be very disturbing … If that keeps happening, we will run into a very serious issue."
Dean of Students Kenneth Elmore said he is currently working alongside other BU officials to increase bystander education sessions for students.
"I would be willing to guess that all of those people who were transported were with other people," Elmore said. "You've got to ask yourself: Can we dial back and figure out at what point did I let my friend or at what point did I let that person I was hanging out with get there [extremely intoxicated]?"
Elmore said he will address these concerns at a safety talk with students on Monday, Sept. 23 with BUPD Chief Thomas Robbins.
"That will be an important piece for us," Elmore said. "We're trying to see if we can get a live chat via Twitter and some other spaces, too, with some people about that — about safety — especially for students who can't make it on Monday."
BUPD officers usually see anywhere from five or six transports in a given week, DiDomenica said. He said the spike in the number of transports this past weekend could just be a statistical anomaly, and officers expect and hope numbers will return to normal next weekend.
DiDomenica said authorities transport a student when the student is so intoxicated that he or she is unable to care for his or herself. He said it is rare for students to call authorities when in danger, due to a fear of consequences.
"I don't think people should be afraid to call if someone is really ill or unconscious — especially if the person is incapacitated and cannot really care for themselves," DiDomenica said. "Then, their friends have an obligation to call."
He said Boston Police Department's new arrest-first policy has nothing to do with this weekend's increased amount of transports, despite its recent prevalence in the media.
Justin Tepe, a College of Arts and Sciences junior, said this abnormal increase in transports might have to do with the fact that it was the second weekend of school and more people tend to drink during this time. He said security guards typically are the ones to call authorities in risky situations, as peers are usually reluctant to do so.
"They [intoxicated upperclassmen] are more likely to get an ambulance call by their good friends, rather than by someone they don't know very well," Tepe said. "As freshmen, I feel students are less likely to call for their friends because they just met each other."
Colleen Finnigan, a College of Communication senior, said BU students' perceptions of current university policies might deter students from seeking out help when they need it most.
"I know a lot of kids are scared to go back to the dorms because they think if they are too drunk, they will end up getting taken to the hospital, so they end up staying in someone's apartment just because they are afraid of the consequences," Finnigan said.
Fiona Egan, a Sargent College of Health and Rehabilitation Sciences sophomore, said she believes current policies are fair, but students are still afraid to call the police and risk getting in trouble.
"They [BU officials] are just trying to think of everyone's safety," Egan said. "They should stress that calling the police may get them in trouble, but it could also be for the well-being of their friend. Their safety is the most important thing. It is better to be safe than sorry."