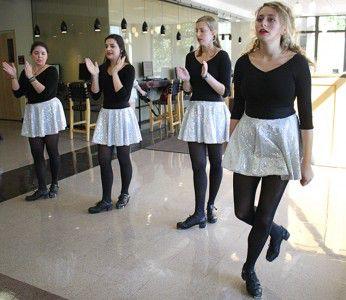 Across Boston University's Charles River Campus, arts-related exhibitions, lectures, and performances took place as part of the BU Arts Initiative's first annual Student Arts Crawl Friday.
BU Arts Initiative Managing Director Ty Furman said the Arts Crawl is designed to promote arts activities at all of BU's colleges and graduate schools.
"Essentially, this is the arts academic programming Splash," Furman said. "The idea is it's the beginning of the year and we want people to know the cool things that are happening and how they can get engaged."
All day Friday, academic offices of BU colleges sponsored activities, lectures, exhibitions and performances, Furman said.
The 2013 Student Arts Crawl was the first major project for the BU Arts Initiative, which has worked to increase student engagement in the arts and raise awareness about art-related events on campus since its inception in September 2012, Furman said.
"[University] Provost Jean Morrison's purpose for the [BU Arts] Initiative is that everyone who comes to BU should not leave without an arts experience, whether it's going to a gallery [or] working on a play," he said.
Furman said he intends for the Arts Crawl to become an annual showing.
"If this goes well, we'll evaluate and do the same kind of thing next year," he said. "If we think there's a different way to approach it and still successfully engage them [students], then we'll switch it up next year."
BU Arts initiative is currently working on academic and student initiatives and launching a new website, Furman said. The program also sends out a weekly newsletter alerting students of all arts-related events on campus.
"There's so much happening all over campus that people just don't know about," he said. "Because it's such a large university, information gathering is difficult. My role is to pull that all together and to make sure people find out."
College of Arts and Sciences senior Sarah Donovan performed for the Art Crawl's "West Campus Coffee House and Irish Arts" as a member of BU Irish dance group Step About Boston.
"They [organizers] picked a lot of [performance] groups that don't necessarily always get a lot of publicity," she said. "…. This is giving smaller niches like us a chance to showcase what we've been doing."
Donovan said she was pleased to see the Arts Crawl provide both art students and non-art students with a break from their day-to-day schedules.
"It's nice to open up your eyes and see what's going on outside of the scope of academics," she said.
College of Fine Arts sophomore Taylor Mortell, founder of community art project "Still Running: The Boston Art Marathon," said the Arts Crawl provided a means for art students to connect with students in other colleges. Mortell's project provides hospitals and police stations in the greater Boston area with decorative artwork created by citizens.
"It's important to see all sides of it [arts at BU]," she said. "When you have a variety of activities, people are more interested in checking them all out. If they were all art-making, it would get repetitive."
Sargent College of Health and Rehabilitation Sciences first-year graduate student Vanessa Grijalba said the Arts Crawl was well-organized and well-promoted.
"It's inviting and gets you more involved," she said. "… It gives you an opportunity to see a lot of different things … I like that they did it [the Arts Crawl] at beginning of the year because, that way, if you see something you like you can get involved and meet people."
CFA freshman Edie Coté said the Arts Crawl helps to raise awareness about what other colleges are working on in all areas of the arts department.
"It's collective," she said. "It's not just visual arts — it's music, theater. It's very inviting and welcoming."