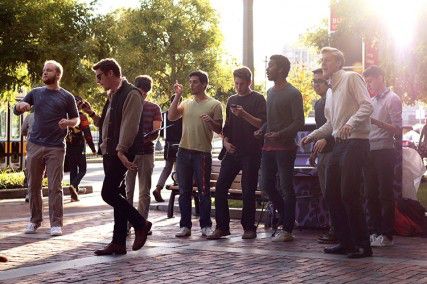 Three brightly colored pianos were delivered to Boston University's Charles River and medical campuses Tuesday for students to enjoy as part of a citywide art project.
Celebrity Series of Boston's "Play Me, I'm Yours" community art installation includes 75 pianos created by local artists that community members are invited to play, said BU Art Initiative Managing Director Ty Furman. Once the exhibit is over, the pianos will be donated to charitable organizations.
"We get to be a part of a bigger-picture art installation that's Boston, Cambridge, Somerville and Brookline," he said. "…We're thrilled to take part in it."
The pianos are located outside of BU School of Medicine's central building, outside of Scoozi Restaurant on Commonwealth Ave., and in the George Sherman Union Plaza. College of Fine Arts graduates Kathleen Kennedy, Ashley Teamer and Elizabeth King created the pianos, Furman said.
"We have this long-standing relationship with celebrity series, and they came to us and said, 'hey, we are celebrating our 75th anniversary, do you want to participate?'" he said. "It was a no-brainer."
Furman said having the pianos on campus is a reflection of BU Art Initiative's overall goals.
"It's an important element of what we are trying to do, which is make opportunities for people to stumble upon art and for it to be non-threatening, fun and engaging," he said.
Celebrity Series Boston Senior Communication Manager Stephanie Janes said the installation is intended to commemorate Celebrity Series' 75th Anniversary.
"The main reason is to celebrate our history, celebrate our anniversary, and give a gift back to the cities of Boston and Cambridge as a thank you for supporting us these past 75 years," she said.
Janes said she hopes the pianos will brighten BU's campus up for students, whether they are performers or audience members.
"Part of the reason BU was an important choice for the pianos was that historical relationship with the university," she said. "Plus, you guys have a great music program, and we know you have a lot of great piano players at the campus. We wanted to make it [the installation] accessible to students as well."
School of Visual Arts Director Lynne Allen said she hopes the pianos encourage creativity on campus.
"BU students are curious, gifted and open to experiences," Allen, who arranged for CFA graduates to design the pianos, said in an email. "I believe the pianos give a welcome respite from rushing to class [and are] a way to make more friends and learn from others."
College of Arts and Sciences sophomore Remi Gai played the piano in the GSU Plaza.
"I love playing piano, so it's nice to have a piano on the way to class or when I'm coming back," he said. "Plus, it feels different to play outside with people around."
The installation is a great idea for encouraging the creative spirit among students, Gai said.
"It's a good way to make people — make anyone — get in touch with art," he said. "It's a great way to share music and meet new people."
College of Communication second-year graduate student Lauren Sullivan said she enjoyed listening to students play piano in the plaza near Scoozi and BU's College of Engineering.
"As with any school, there's a lot of talent [at BU]," she said. "This piece, in particular, allows people to show their talent."
CAS senior Emma Rosenfield also played on the piano in the plaza.
"A lot of people have forgotten how beautiful music can be when it's played live on a classical piano," she said. "It's a really great way to remind us of that, while at the same time keeping it pretty casual."