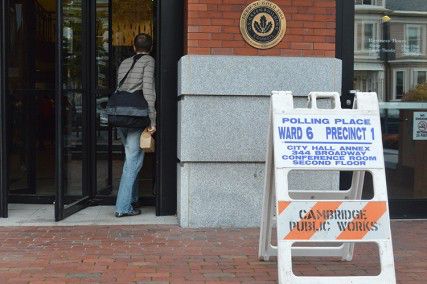 Despite low voter turnout on Tuesday in the 24 cities that make up the Fifth Congressional District, Democratic candidate Katherine Clark and Republican candidate Frank Addivinola defeated other candidates in the primary of the special election to compete for U.S. Sen. Edward Markey's vacant House of Representatives seat.
Mass. Sen. Will Brownsberger of Belmont, who represents the district where Boston University is located, was defeated after coming in fifth place.
Clark garnered 21,959 votes, or 32 percent of the vote for the Democrats, and Addivinola garnered 4,759 votes, or 49 percent of the vote, according to results from the Mass. Secretary of State's office.
In Cambridge, few residents made their way to polls to cast their ballots, which Kent Portney, political science professor at Tufts University, said is expected in this type of election.
"Voter turnout in any sort of off-year election is always much lower than during presidential elections," he said. "Special elections typically have the lowest turnout, especially when they are focused on a single sub-state election."
Markey won the special election in June after serving 37 years in the Hous to fill the seat vacated by Secretary of State John Kerry when he left the U.S. Senate.
Candidates on the Democratic ballot included Brownsberger Katherine Clark of Melrose, Karen Spilka of Ashland, Mass. Rep. Carl Sciortino of Medford, Middlesex Sheriff Peter Koutoujian of Waltham, former Lexington School Committee member Martin Long of Arlington and Paul Maisano of Stoneham.
On the Republican ballot were lawyer Frank Addivonola of Boston, physicist Michael Stopa of Holliston and actuary Tom Tierney of Framingham.
Portney said because of lack of attention from the media, there are not going to be as many people voting.
"The turnout is lower for two reasons," he said. "First, there is no cumulative importance [to the election] and second, because of the limited geographic jurisdiction, there is much less media attention."
Although the election is not getting much attention, Portney said people are affected because this is a House race and the outcome can influence important developments concerning the government shutdown and the debt ceiling.
"The House is controlled by Republicans … if people want this control to be checked, they will have to elect a Democrat," he said. "If they want to strengthen the Republican control, they will need to elect a Republican. With the former, given the budget and debt ceiling debate in [Washington] D.C., not to mention the Obamacare elements of this, this might be something that people want to see resolved in a particular way."
Douglas Kriner, political science professor at Boston University, said not only is turnout low in special elections, but also the electorate does not usually reflect the overall population.
"Most voters don't know much about politics or [do not] follow politics too closely to begin with, and because special elections are off the normal cycle, they tend only to attract the most politically aware citizens to participate," he said. "Moreover, these citizens look very different, on average, than the electorate as a whole in many respects … they tend to be older, wealthier and more ideologically extreme."
Some residents said they chose not to vote because the election is not important to them.
"I didn't vote because I didn't feel well enough informed about the candidates," said Cailleen Bernardi, resident of Cambridge.
Carol Roberts, resident of Cambridge, said she did not vote because the election does not concern her.
"I didn't vote and it's not really a priority for me right now," she said. "I don't think I was even aware of the election and who was running. I'm not involved on knowledgeable in local politics, so I know nothing about it."
Clark and Addivinola will face off on Dec. 10 in the special election.