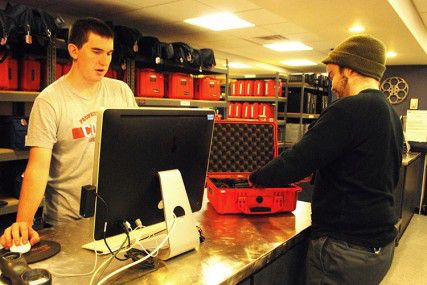 Although Boston University's College of Communication professors cannot officially require their students to buy digital single-lens reflex cameras for their Visual Journalism classes, some students said they felt pressured to buy the equipment in order to succeed in their classes.
Visual Journalism, also known as JO 303, is a required course for all journalism students, according to the BU COM website. Peter Southwick, director of BU's photojournalism program, said this class is designed to teach journalism students various multimedia techniques, as well as familiarize them with using digital SLR cameras.
"It's very valuable for them to have their own equipment, because that means that they will have availability all the time," Southwick said. "[But], they are not required to buy this camera."
Chelsea Trim, a junior in COM, said part of her JO 303 class with professor Stephen Haines teaches students how to properly use a camera, and the other part is structured on how to edit their pictures. She said in order to fully participate in JO 303, students need to have a camera with them everyday.
"You can try and rent one [DSLR camera], but in terms of convenience, it's just easier for all the students to buy one," Trim said. "Financially that's not easy, obviously."
Southwick said the JO 303 syllabus clearly lays out instructions on how to rent a DSLR camera from Field Production Services, located in the basement of the COM building at 640 Commonwealth Ave. The digital SLRs available to rent typically cost upward of $500, according to various online camera sites.
"There is gear available to you [students] to sign out," Southwick said. "But… if it is possible for you to have availability for a camera, that's preferable, because that means you have unlimited capacity to do your work when you want to."
Brad Fernandes, COM's technology director, said FPS has enough digital SLR cameras available to satisfy the four to five sections of JO 303. He said all 40 of FPS's cameras have never been signed out at the same time.
"I've never heard of a situation where a student is completely able to not get their work done, either due to lack of gear or lack of hours," Fernandes said. "We always try to make provisions."
Rachel McCubbin, a COM sophomore, said she spent about $600 on a DSLR camera for Haines' class. She said Haines clearly said students could rent the camera from FPS, but he did not advise doing so because a camera may not always be available.
"I remember sitting there, thinking, 'Wait, do we have to purchase this?', and he [Haines] said 'Yeah, we have a few down in Field Production Services, but it's time now for everyone to have one when they need one, so I definitely suggest that you buy one,'" she said.
Additionally, McCubbin said another one of her professors told her that as a print reporter, she would not need to own a camera like the ones used in JO 303.
"She said I would be taking pictures on my phone, taking pictures on my iPad, because I can't upload anything to the Internet on DSLR," she said. "It's not conducive to the journalism field now, so now it seems like a giant waste of money."
Haines said he ensures that those students who want to buy their own cameras know all of the options available to them in the beginning of the semester.
"I had a student that wanted to buy used gear … and I told them that there were stores that he could go to locally … and gave them a local professor who sold this equipment," Haines said. "I talked to students who have the option of purchasing gear and then selling it back to other students."
Haines said none of his students have consistently complained to him about renting a camera from FPS, or said they regretted purchasing the equipment for his class.
"I talk to students about bringing the cameras to the first couple of classes, because I want them to have the hands on experience of learning how to set the camera up to capture the right images," Haines said.
Calla McLaughlin, a junior in COM, said she spent about $400 on a refurbished DSLR camera for Haines' JO 303 class. She said she decided to buy her own camera because she did not want to risk getting a zero if she could not access a camera from FPS.
McLaughlin said her grade in Haines' class essentially relies on her digital SLR camera, and she likes the control of taking pictures whenever she wants. But, she said this convenience came at a great price.
"Part of the fun thing about the class is … the freedom to go out and shoot as many pictures as you like," McLaughlin said. "I think if you are constantly worried about trying to get the equipment when you need it, and return it when they needed it, you would not benefit from the class is much if you had your own."