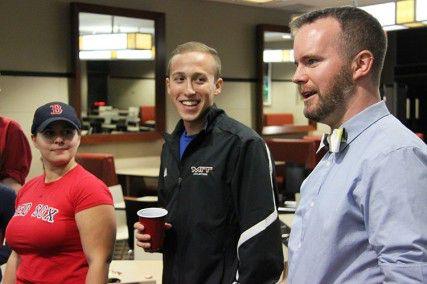 Lesbian, gay, bisexual, transgender and queer/questioning student groups from all over Boston University gathered in the George Sherman Union backcourt Wednesday night for the creation of BUBQ, a single group that represents the several individual groups.
First-year School of Public Health graduate student Laura DelloStritto, a member of MedGLO, the LGBTQ organization at BU's Medical Campus, organized the social, which was an informal, catered gathering for individual group members to exchange views.
"BUBQ is a newly formed coalition of all LGBTQ student organizations and their allies at BU, including graduate and undergraduate programs at both the Charles River and medical campuses," she said. "This kickoff event will serve as a means of introducing our coalition to the BU community and connecting students with those in other organizations and programs."
Around 40 people attended the social. While there were no formal speakers, several people in attendance said it helped link the many student groups in a conversational setting, which has not happened in the past.
Members of BU's Queer Activist Collective, JewQ, CohortQ for School of Management students, OutLaw in the School of Law, OUTLook in Marsh Chapel and Sacred Worth in the School of Theology, all of whom co-sponsored the kick-off, were present.
DelloStritto said the social also served to inspire further activity within the LGBTQ community going forward because of the connections it helped create.
"We certainly hope this coalition will inspire co-sponsorships of at least two or more of our groups on a regular basis, be it for guest speakers, debates, dances, socials or alumni networking," DelloStritto said.
President of Queer Activist Collective Eve Boyle, a senior in the College of Arts and Sciences, said she thinks it is important that the group would represent both graduate and undergraduate student groups.
"It's nice to bridge the gap between all the groups that haven't really had any contact between each other," she said. "I didn't even know that half of these groups existed before I was contacted by them."
Boyle said it is nice for undergraduate student groups to see an example of older people in the community who are successful in their graduate programs and who are going on to do many different things.
Johnny Gall, leader of Sacred Worth and a second-year School of Theology graduate student, said he thinks BUBQ could further strengthen ties between LGBTQ students across both campuses.
"A lot of these groups for a long time have just never talked to each other, so I think it's exciting to think of the possibilities of building relationships among the programs," he said. "I think this is the springboard … This is just to get people in contact with each other."
Ileana Tauscher, an SMG senior and the public relations coordinator for BU's Center for Gender, Sexuality and Activism, said she was impressed that the collaboration happened.
"The [different] groups are sometimes very stratified, which is a little unfortunate," she said, "It's just cool when you have a bunch of students that are passionate about one thing come together, network and collaborate."