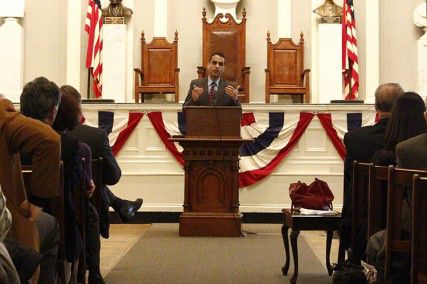 In an effort to spread awareness of human trafficking in Boston and around the world, about 150 people gathered in Faneuil Hall on Thursday night for the Najarian Lecture on Human Rights sponsored by the Armenian Heritage Foundation.
Siddharth Kara, director of Harvard University's Program on Human Trafficking and Modern Slavery, described much of his experience in researching and documenting human trading in the U.S. and abroad to explain how the industry thrives and what can be done to stop it.
"From Bombay, [India] to San Diego, [California], the slaves I have met speak of archaic modes of exploitation and barbarism that have evolved in the era of global economy with brutal efficiency," he said. "These slaves suffer in the dark underbelly of globalization at the bottom of the supply chain, a class of human beings who are literally chewed up in the name of profit."
Kara said human slavery has taken off as an industry because transportation costs to send people overseas, often children, has dropped by thousands of dollars per person compared to the adjusted cost in the 1600s and 1700s when Americans openly traded slaves. As a result, he said, pimps and human traders can get much more money from selling a person, thus encouraging the market's expansion.
Cherie Jimenez, founder of the Education, Vision and Advocacy Center in Boston, said public awareness is the key to prevention and that people have no excuse not to be aware anymore.
"We can actually envision a society and a world without prostitution," she said. "We need to reverse the social and economic conditions that allow prostitution to thrive right here in Boston …We're getting there, slowly."
Sergeant Detective Donna Gavin, head of the Boston Police Human Trafficking Unit, said the city is taking steps to preventing trafficking.
"It [prostitution] is an issue here," she said. "In most cases, the women or young girls are forced into it. They would not do it if they had other alternatives …There's a lot going on for the department to prevent or intervene, but talking to your peers, saying something if you see it or before it goes that far, that's a key part of this."
Liam Lowney, executive director of the Massachusetts Office of Victim Assistance, followed Jimenez. He said Massachusetts was one of the final states to shift and perceive women prostitutes as victims rather than criminals, but since that shift, the issue has been at the forefront of social and legal change.
There have been 178 calls related to human trafficking in Massachusetts from January to June of 2013, according to statistics from the National Human Trafficking Resource Center.
Middlesex County Sheriff Peter Koutoujian, who spoke after Lowney, said Massachusetts has done well in terms of preventing human trafficking and prostitution, but the fact that 87 percent of trafficking victims in America are younger than 25 shows there is still much to do before the problem is solved in Boston or anywhere else in the world.
"Many people believe slavery only exists on the pages of a history book, but we all know now, especially now, the sad truth that this is not true," he said. "That's why I encourage each and every one of you to return home and educate members of our community … Together, we can put an end to human trafficking."
Several residents said the lecture was successful and informative.
"I come from a country where people never talk about this issue [Uganda], and many people who don't know about it, they turn out to be victims," said Ritah Nakandi, 28, resident of Watertown. "This kind of presentation is encouraging for me because knowing people know about it, it might mean it can go away."
Aideen Jenkins, 52, resident of Boston, said the lecture was a direct way to prevent trafficking at least in the Boston area.
"It's important to have people talking about this issue and what you can do about it," she said. "On one level, knowing the warning signs are good, but they [the speakers] got into what specifically can be done in real world situations, and that makes huge difference."
Robin Chan, 35, resident of Quincy, said Massachusetts is moving in the correct direction to prevent human trafficking.
"We're on a good track right now to prevention right now," he said. "In the past, we were kind on backburners, but…we're doing better to prevent it and get victims back on their feet. We can definitely be doing more though."