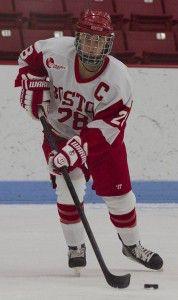 The Boston University women's hockey team will look to secure convincing wins this weekend as it travels to face the University of New Hampshire Friday night and then returns home to Walter Brown Arena Saturday afternoon to host the University of Vermont.
Tuesday night, the Terriers (4-1-1, 1-0-0 Hockey East) just scraped by against Northeastern University thanks to an overtime goal by senior captain Louise Warren that gave BU a 3-2 victory.
Following the victory, BU coach Brian Durocher said he was less than pleased.
"I don't think it was, technically, a very well-played game by us," Durocher said after the game against Northeastern (4-5-0, 0-1-0 Hockey East). "I don't think it was a very disciplined game played by us and I don't think it was a very smart game played by us. It should have been a game where we could have won three, four, five to one, but we didn't want to do that. We basically wanted to hand it to them."
Though Warren netted the game-winner, junior forward Kayla Tutino stood out in the game, as she was on the ice for all three Terrier goals, notching a goal and an assist of her own.
"She's obviously a very important player because she plays in all situations," Durocher said on the impact of Tutino. "She's a junior, so she's been in big games for her first two years here at BU. She's an ultra-competitive kid. So not only is she somebody who has to do things on the ice when it comes to her talents, but she's also one of those leaders because she sets the bar really high not only for herself but also for her teammates, and it shows how hard she works."
When the Terriers travel to Durham, N.H., to take on the Wildcats (5-2-1, 1-0-1 Hockey East), they will be met with a team fresh off three straight wins. In the first win of that streak, UNH knocked off then-No. 2 Boston College, 3-1. This past weekend, the Wildcats swept Penn State University by scores of 8-5 and 3-1. Even more impressively, all of these wins occurred on the road.
UNH was not necessarily expected to be a powerhouse at the beginning of the season — a preseason coaches' poll ranked them fifth in Hockey East — but it has become a dangerous team, Durocher said.
"UNH is a team that had a couple of years that were uncharacteristic when they kind of dropped off a little bit in their lofty stature," Durocher said. "But they've got one of the smartest coaches in the game in Brian McCloskey, they've got a very proud team and I think the last year they really started making great strides coming back and I think they're somebody that's got to be reckoned with in Hockey East in the big picture … They've got some real talented kids."
Senior Nicole Gifford has led the way for the Wildcats this season, tallying four goals and four assists. Her classmate Arielle O'Neill has also netted four goals.
UNH also boasts the best power-play percentage in Hockey East, converting on 29.7 percent of opportunities. This will be an intriguing matchup for the Terriers, who sit atop the conference by killing off 90.3 percent of penalties.
Vermont (2-4-1, 0-1-1 Hockey East), on the other hand, has been less fortunate than the Wildcats this season. The Catamounts lost back-to-back games at Robert Morris University — the same team that gave BU a headache in a 3-0 loss Oct. 19 — and received a 6-0 thrashing from the Rochester Institute of Technology earlier in the season.
"This will be the deepest team they've had in the last couple of years," Durocher said. "They got absolutely sidetracked last year with injuries and I think this year they've got a much healthier team. They've also recruited a volume of freshmen who all are young relative to playing Division I college hockey. They're pretty solid players there, I think if we defended a line or maybe a player or two on their team, you had a pretty good chance of getting through in the past. This year they've got the depth and they've got the volume.
Junior Amanda Pelkey has been the star for Vermont, totaling six goals and five assists in seven games.
"If you look at one player I think Amanda Pelkey is really the elite top player on that team you've got to keep a close eye on," Durocher said. "And we'll have to do that for sure."
The Catamounts are disciplined on the ice, and have averaged only 9.7 penalty minutes per game, the lowest in the conference. However, they are giving up an average of 3.71 goals per game, second worst in the Hockey East.
For Durocher, it is important that the team focuses on maintaining composure during the weekend series.
"We're definitely trying to emphasize some things from a mental standpoint, a tactical standpoint and a disciplined standpoint that we have to get better at," Durocher said. "And discipline is probably the optimal word because we had three or four offsides in the first period, we had three penalties in the first period. Those are things that I think were within control of our ability and we have to get better there."