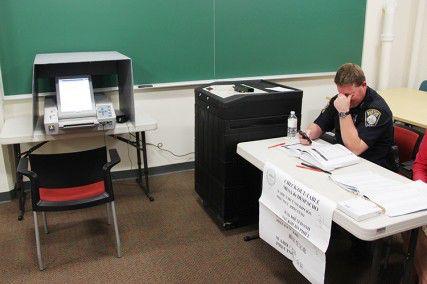 As Boston nears its first open mayoral election in decades, some Boston University students said they do not feel they have a stake in the election.
College of Arts and Sciences senior, Renée Gaillard that said since many BU students come from outside the greater Boston area, many do not feel they will be affected by the outcome race. Gaillard said students would probably be more interest in this race if it pertained their own hometowns.
"In general, I haven't really followed Boston politics just because I guess I am focused more on New York [Gaillard's home state]," Gaillard said. "…But since I think everyone is coming from different areas, they probably focus more on what's going to back home than here … but at the end of the day you're still living here [in Boston], so it does affect you."
Overall, Gaillard said she has not heard much talk around BU's campus about the mayoral race.
The Boston mayoral election is scheduled to take place on Tuesday for the first time in 20 years. Mass. Rep. Martin Walsh and City Councilor John Connolly are looking to replace Boston Mayor Thomas Menino as he steps down after this fifth term in office.
Menino, who took office in 1993, announced on March 28 that he would not run for re-election due to several health ailments.
Nicole Jenkins, a College of Communication junior, said that since she lives in Los Angeles she does not feel the mayoral race in Boston pertains to her. Regardless, she said she is interested in how the candidates aim to expand the middle class as part of their economic plans.
"The top 1 percent has the majority of economic control, and there's not much of a middle class anymore. It's either totally rich or totally economically poor," Jenkins said. "So to expand the middle class you kind of build more of a bridge, and even out the economic control just to make things fairer."
What it often comes down to is where students are originally from, said Jared Kneis, a School of Management senior. Because many BU students come from out of state or out of the country, it is hard for them to connect to Boston in a political sense.
"I haven't really paid attention to the current race because I am not from Boston. I'm from Maryland." Kneis said. "I'm more in tuned to policies going on over there, the governor's race going on there. So I'm kind of out of the loop when it comes to Boston politics."
On the other hand, COM senior Megan Tucker said that although she is not personally invested in the election, she thinks BU students as a whole are very connected to it.
"BU students kind of have an interest in everything," Tucker said. "The types of students that go to BU like to be involved in their community so they care about lots of things, and that's just probably a personal passion of theirs."
Evangelos Koulogeorgiou, a SMG senior and a Boston native, said that if he were to head to the polls on Tuesday, he would probably cast his vote for Martin Walsh.
"He is more grounded and able to connect with the city, because John Connolly is just from West Roxbury and kind of high office and doing his own thing, and he's not as able to connect with the people as Marty Walsh is," he said.