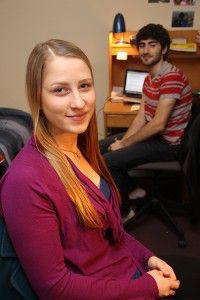 Maya Inozemtseva, a Sargent College of Health and Rehabilitation Sciences sophomore, and Daniel Smith, a College of Arts and Sciences sophomore, are the first Boston University students to take advantage of the newly available gender-neutral housing on campus.
Inozemtseva pulled Smith, her boyfriend, into her room in Danielsen Hall at the end of last month when her roommate moved out. Though the two did not come into the semester with the intent of living together, Inozemtseva said she and Smith are glad such housing was an available option for them.
"We have been friends for a long time, we grew up together in our hometown and we are dating," Inozemtseva said. "But, mainly the fact that we are just really comfortable, we have known each other for a very long time and we will probably eventually get an apartment together."
Gender-neutral housing has officially been an option for BU students beginning in the fall 2013 semester. According to the BU Housing website, students are able to pull in other students regardless of their gender identity in all dormitories except West Campus, Myles Annex, The Towers and Warren Towers, as they are large dormitories with communal bathrooms.
"Gender-neutral housing provides students [with] increased choice in selecting roommates," according to the housing website. "It provides students maximum responsibility for their own room assignment, and is consistent with the Boston University's commitment to learning through students' active decision-making and engagement in the learning environment. It is the intent of a gender-neutral housing program to contribute to a campus climate that is supportive of all students."
After Inozemtseva's original roommate moved out, she said she researched the option of having Smith move into her room. The process of pulling him into her room was simple, and the housing process was completed within a day.
"We were the first ones [to request gender-neutral housing], so our resident life officer didn't even know what to do," Inozemtseva said. "She went online, went through all of the things that were necessary to do it, and it was really easy since we were switching literally from [within] the building."
Inozemtseva said her residence life officer checks up on her and Smith every now and then, but other than that, no one has paid much attention to their living condition. She said she is surprised it took so long for BU to allow gender-neutral housing in its on-campus dorms.
"You're in college — if you wanted to go out and get an apartment you could," Inozemtseva said. "So, I think it's none of BU's business what we do, so I think it [housing] is a good thing. You just have to make sure you really get along with the person you're rooming with, but I feel like that goes for [roommates of] the same sex as well."
BU spokesman Colin Riley said although there are only two students using gender-neutral housing so far this semester, BU anticipates more interest when students choose housing for the 2014-15 academic year.
"We'll be able to gauge what level of interest there is next spring, and in the fall when people return, we will get an idea of whether it's a popular choice," Riley said. "But it doesn't matter, because it is available right now."
Riley said after BU sees how gender-neutral housing works out this year, it is possible university officials will broaden the scope of gender-neutral housing initiatives around campus.
Smith, who transferred from The College of New Jersey, said gender-neutral housing is a policy that only works when the roommates are willing to accommodate each other in their communal living space.
"There could be couples that are just very sexually-driven and are not exactly emotionally connected, [then] it's a very superficial relationship," Smith said. "As most superficial couples do, if they broke up in a very explosive and dramatic way, it could ruin it for everybody else, because whoever thinks this policy is negative, they'll use that chance to exploit it and try to ruin it."
Smith said he and Inozemtseva constantly communicate with each other, and living with her has been a great experience thus far.
"I really love being with Maya," Smith said. "I really love getting to be with her every single day. No matter how bad my day is, she always makes it better when I get to see her at the end of it."