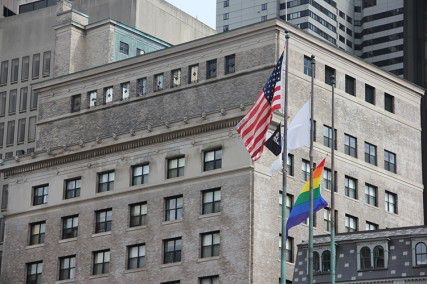 Lesbian, gay, bisexual and transgender groups in the Commonwealth rejoiced as the Employment Non-Discrimination Act, a bill banning discrimination due to sexual orientation in the workplace, was passed in the U.S. Senate on Thursday by a 64-32 vote.
Sylvain Bruni, a member of the board of directors for Boston Pride, an organization that plans gay rights celebrations throughout the year in the Hub, said he hopes the legislation will pass in the House of Representatives so U.S. President Barack Obama can sign it into law.
"If ENDA passes in the House and becomes the law on the federal level, it ensures that everywhere in Massachusetts, every LGBT or other identified person is protected by law from being fired for who they are," he said.  "[In Massachusetts], we're very progressive. This type of measure will make our state even more progressive and welcoming of LGBT people, and that's always good."
Both U.S. Sens. for Massachusetts Elizabeth Warren and Ed Markey voted yes on the bill.
"It has taken us far too long to arrive at this day," Warren said in a remark on the Senate floor on Wednesday. "The failure to treat all our citizens with the same dignity is shameful. In America, equal means equal."
ENDA must now be approved in the House or Representatives, which is controlled by the Republican Party. No clear timeframe is apparent for when the bill will be voted on.
Bruni said passing the act in the Republican-controlled House will be a struggle, but it is still possible.
"We have to remain hopeful that this kind of legislation is going to pass," he said. "We encourage all leaders and the congressional delegation of Massachusetts to keep pushing hard to ensure that the legislation passes in the House so we can celebrate in June."
Brian Camenker, president of MassResistance, an activist group in favor of traditional marriage, said he opposes ENDA and is hopeful that it will not pass in the House.
"ENDA is basically a perversion of civil rights laws," he said.  "The original civil rights laws were passed with a notable purpose and what they've done is twisted it and perverted it to basically push the homosexual and transgender agenda into businesses across the country."
Camenker said he hopes the House's veto of the legislation will give MassResistance the "breathing room" needed to slow down the "onslaught" of the homosexual movement.
The Commonwealth was the first state in the U.S. to legalize same-sex couples when it passed legislation on May 17, 2004.
Outside of the legislature, approximately 7 out of 10 Americans support laws that prevent job discrimination based on sexual orientation, according to a poll from the Public Religion Research Institute published on Nov. 1.
Several residents said they were in favor of House approval of ENDA and making it illegal to discriminate in the workplace.
"Nobody should be discriminated against," said Rosemary Ramos, 20, of Brighton. "It doesn't make any sense to stop someone from having a job based on that [sexual orientation]. It's just arbitrary and wrong. It [ENDA] should definitely go through."
Byron Galbraith, 32, of Boston, said discrimination is bad, but practical enforcement of the bill could be an issue.
"In principle, yes, [ENDA is good,] but I just don't know how you would do it," he said. "You have to ask [what one's orientation is], so it has to be declared, and some people don't feel comfortable doing that. And then once you know, now you're liable for all that you know. That's problematic, so obviously people shouldn't be discriminated against, but how to implement such a thing is complicated."
Hector Rivera, 33, a housekeeping supervisor at the Brookline Holiday Inn who lives in Brighton, said he was surprised at how long it has taken the federal government to pass a bill like ENDA.
"We're all human beings here for the same purpose," he said. "Where I work, there already is no discrimination. We look at everyone equally, and that's the way it should be. Everybody should be able to make a living whether you're straight, homosexual or otherwise. It's just a right. It doesn't matter what your sexual preference is."
Steven Dufour contributed to the reporting of this article.