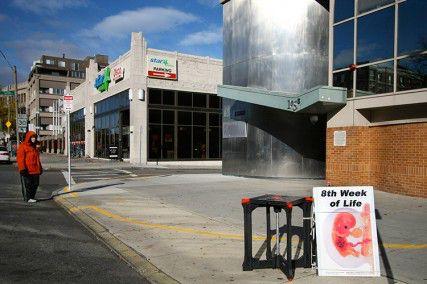 Petitioners are opposing a law on how close protestors can be to the entrance of abortion clinics, Mass. Attorney Gen. Martha Coakley  defended the constitutionality of the buffer zone law Friday because it protects public safety and patient access to reproductive healthcare.
Philip Moran, a Salem lawyer who is representing the petitioners in the case, said the buffer zone law violates freedom of speech and free access to public sidewalks.
"This new law makes it impossible to have a quiet conversation with a person, to speak to people who are in a difficult situation, in a difficult time of their life," he said. "They need the opportunity to hear the opposite side of the story and [be offered] help, that's basically what the plaintiffs have been doing."
The buffer zone law, passed in 2007, aims to protect patients going into reproductive healthcare facilities by creating a 35-foot buffer zone around clinic entrances and driveways that petitioners cannot cross, but petitioners claim the buffer zone law violates First Amendment rights.
Coakley is now defending the law's constitutionality for the fifth time.
"Massachusetts' buffer zone statute strikes the right balance between ensuring safe access to medical facilities and preserving freedom of expression," Coakley said in a Friday release. "This law has enhanced public safety in a fair and constitutional manner."
The law, which was signed by Mass. Gov. Deval Patrick and took effect on Nov. 13, 2007, is in effect only during the clinic's business hours and only if the buffer zone is clearly marked and posted.
Those in favor of the law see the past four court hearings concerning the law as proof of its constitutionality.
"We certainly value free speech and the right to privacy in Massachusetts," said Tricia Wajda, director of public affairs for Planned Parenthood. "The thing about the 2007 buffer zone law is that it ensures that both rights are protected. We firmly believe, and we've seen in practice, that this 2007 law has been the only thing that works that effectively strikes that balance between patient safety, staff safety and the protesters' rights to free speech."
This law has been challenged and upheld four different times, but now will be challenged again in front of the U.S. Supreme Court in the case McCullen v. Coakley because opponents still state there are strong constitutional right violations.
"We had to go through two trials with Judge Tauro at the [U.S.] District Court, then we had to go twice to the First Circuit Court of Appeals," Moran said. "Then after the decision came down from the First Circuit in January we petitioned to take it to the U.S. Supreme Court, which was granted to us on June 24, so we're scheduled to go to the Supreme Court on Jan. 15."
Wajda said the issue of people harassing and intimidating women walking into clinics dates back to the 1980's.
"Planned Parenthood is deeply committed to protecting the privacy, dignity, and safety of our patients and staff," she said. "We don't think that a woman seeking reproductive health care should be judged, shamed or harassed. The 2007 law was passed with the support of law enforcement who wanted a strong mechanism for ensuring public safety and protecting the safety of health centers' patients and staff."
Several residents said the buffer zone law respects the civil rights for health clinics to practice and administer healthcare, and protesters' rights to assembly and free speech.
"When someone is highly opinionated, things can get heated and you never know what might happen," said Walter Covington, 55, of Roxbury. "It's a woman's choice what she does with her body, and she doesn't need to be afraid to broach a clinic."
Pat Daoust, 60, of Back Bay, said pro-life groups have expressed their opinion more than enough.
"This law makes perfect sense," she said. "If you have an issue, you can stand back and voice that issue from afar. Nobody needs to deal with people getting in their face."
Brian O'Rourke, 41, of Dorchester, said the buffer zone law strikes a proper balance for both parties.
"The protesters still get to do their thing out in front where they want to be, it's not necessary for them to be any closer than the law entails," he said. "And the women still get to make their own decisions without any additional pressure."