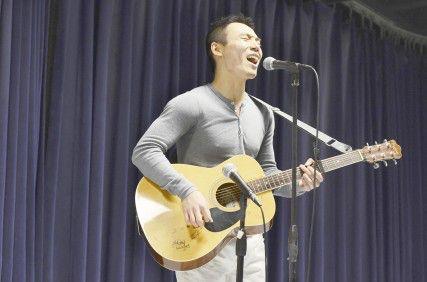 Boston University's Filipino Student Association hosted the Typhoon Haiyan Benefit Show Wednesday night at the George Sherman Union Conference Auditorium.
BUFSA will be donating proceeds from the event to the American Red Cross Typhoon Haiyan relief effort. The show was named "Siklab Ng Pag-asa," Tagalog for "spark of hope." Over 60 students attended the event.
"We're hosting this event because of the recent typhoon in the Philippines that affected many of our members on a very personal level," said Grace Wang, president of the BUFSA. "We had family in the Philippines, and it really hit close to home."
Though the show was free, BUFSA suggested a donation of $5. Proceeds will be added to a university-managed fund for all typhoon relief efforts on campus, Wang said.
"It [the name of the event] reflects the resilience and strength of Filipinos," Wang, a College of Engineering senior, said. "We encounter storms like [Haiyan] all the time and we have always risen up and come out of it stronger, prouder and more resilient than ever … Putting on a show and raising funds for them [Haiyan victims] will send a message of hope."
Michael Kolb, a School of Hospitality Administration freshman, said organizers set up the benefit show to encourage to those affected by Haiyan.
"I was so glad to see everybody come out and support the Philippines," Kolb said. "It has been a really tough time, especially for me because I have family over there, so it's really great to see support."
The show featured 14 acts including dance groups, a cappella groups and solo artists. BUFSA's a cappella group Kumanta sang the Filipino national anthem, and the Christian a cappella group Mustard Seed also performed.
Students from neighboring colleges performed as well, including a Berkelee College of Music vocal duo and a dancer from Northeastern University.
The benefit show also featured a choreographed routine by the Kung Fu Club and a yo-yo exhibition from Derek Hsu, this year's grand finalist of Kollaboration Boston, a non-profit arts and entertainment competition.
Outside of the GSU Conference Auditorium, the BUFSA set up a banner set up on which people could write messages of support to victims of Typhoon Haiyan. The banner will be sent along with donations to the Philippines.
Student groups Alianza Latina and the Supply Education Group sold refreshments at the event and are donating the proceeds to the Red Cross.
"Every donation helps," said BUFSA Treasurer Arvin Agas, a College of Arts and Sciences junior. "… It's a very community-driven fundraiser and whatever they put into it will show how much they care about the typhoon."
BUFSA is encouraging students to write positive messages to accompany the donations to the Philippines and will continue to collect at the GSU until Friday. The group plans to extend the donation collection period until Tuesday, Wang said.
"I was so impressed by the talent BU has," said CAS senior Misha Rahman. "Sometimes you forget the amazing people you go to school with. I am awestruck they put it together in less than a week. I really loved it."
Ann Marie Connolly, a CAS senior, said the show united and mobilized efforts to provide relief to typhoon Haiyan victims.
"It was a great turnout," Connolly said. "There was so much money in that box. Not only was it successful financially, but I feel like it brought the community together and everyone had a good time, which was great."