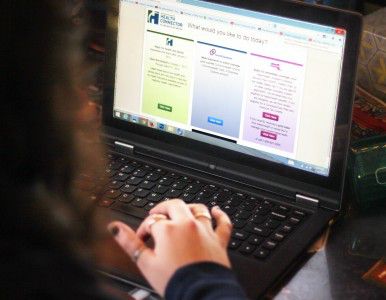 Massachusetts officials are bringing MITRE, an independent technology firm, to review the new state health insurance website and fix its numerous problems before the Friday deadline.
Jason Lefferts, spokesman for Massachusetts Health Connector, said Massachusetts is a national leader in health care access and affordability, and the goal of the connector is to remain that way.
"We are building an entirely new system in Massachusetts from what we had before that only reflects the beneficial changes in the Affordable Care Act, but also makes it easier for consumers to apply for coverage, find the best program that suits their needs, and find the best plan for themselves and their families," he said.
MITRE is a not-for-profit corporation that operates research and development centers, assisting the U.S. Government in research, analysis, development and system integration. One of these centers is the CMS Alliance to Modernize Healthcare.
"CMS has asked us to do a systems development analysis of the Massachusetts Health Connector website and draft recommendations to address the issues by Jan. 17," said Lauren Libitz, MITRE community relations manager.
This system analysis will be extensive in an effort to fix all the current problems with the website. Massachusetts worked with CGI, a business and technology firm, to develop this new website. Many of the faults with the website are attributed to them, she said.
The website has caused trouble for subsidized applicants who need to select a plan, healthcare carriers who need to transfer their enrollment information and anyone who is searching for dental or small-business coverage. Thousands of people are in temporary MassHealth coverage due to the system problems.
Despite these setbacks, officials of Massachusetts Health Connector and MassHealth are optimistic about the system's future.
"[We] brought in a rapid assessment team to perform an end-to-end review of our existing system and help determine next steps for technical fixes," Lefferts said. "This review will enable us to assess the quality of existing portions of the system, delineate the best course of action for getting the project on a track to success, and align the project management structure to implement recommendations for successful completion."
MITRE will provide the state with guidance to improve the system by Jan. 17, at which point Massachusetts Health Connector will decide how to move forward. Until then, progress on the site has stalled, but both Connector and MassHealth staff are working hard to fix the issues and continue providing customers with health insurance.
Kevin Wythe, 53, of Dorchester, said he is dissatisfied with the healthcare system in Massachusetts and the lack of the progress with the website.
"I have a friend who is over the limit by a dollar and lost her neighborhood health plan," he said. "It's a mess. It's slow moving, just like everything else in the state. I'm disappointed with politicians in general and the measure of healthcare in this country and in this state."
Adrian Rose, 51, of Allston, said glitches are expected, but they will become a bigger issue if they continue.
"It's relatively recent, so it's normal that there are glitches, but there are just so many," she said. "It's so confusing. There is a lot of disorganization, and it's going to trickle down and affect everyone."
Tim Sullivan, 45, of Back Bay, said he is concerned the problems with the website will leave people uninformed and unable to sign up for the healthcare they need.
"People aren't going to be able to get the information that they need," he said. "They won't be able to apply for insurance and they're not going to know where to go. They're going to be confused. Everyone is going to be confused."
Emily Hartwell contributed to the reporting of this story.