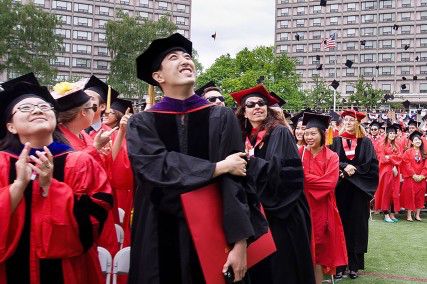 Boston University will offer a program that allows students to simultaneously earn a Doctor of Medicine and a Doctor of Law degree in six years, officials from the Boston University School of Medicine and Boston University School of Law announced Thursday.
"This joint degree is a great example of the University's 'One BU' philosophy, as two of BU's most prestigious professional schools collaborate to provide a new interdisciplinary degree program for our students," said LAW Director of Communications Ann Comers-Wood. "It is also part of the law school's strategic plan to develop more dual degree program options for our students."
The program, which will be begin in the Fall 2014 semester, will feature specific blocks of time devoted to both law and medical disciplines in order to save candidates a year of education, said LAW Associate Dean for Academic Affairs David Walker, who helped develop the program.
"They spend the first three years at med school as a traditional med student," he said. "So their first three years are just like any other med student's. Then, there are two years that they spend at law school in a tradition that a first-year and second-year law student would. The sixth year, they spend one semester at BU LAW and one semester at BUSM."
Walker said one of the primary concerns in creating the program was ensuring that candidates would have ample time to focus on both medicine and law without the two disciplines coinciding.
"It was important for both of us [BUSM and LAW] that the students have a big chunk of time at the med school and at the law school uninterrupted," Walker said. "So the student can be a traditional law student for a couple of years, a traditional med. student for three years."
Dr. Megan Sandel, an associate professor at BUSM and co-creator of the program, said one of the program's greatest strengths is that it has the flexibility to be tailored to each specific student's goals.
"Our experience in interviewing other JD/MD programs across the country, though there aren't that many — this is going to be the second one in New England — is that it depends on what the student wants in their career," Sandel said. "We'll be able to tailor their interests, whether they stick to the core in medicine or law or are preparing for a big residency career or plan to go straight into government."
The program will accept applications from aspiring medical students as well as current students at BUSM who provide specific plans for receiving both degrees, Sandel said.
Possessing both JD and MD degrees gives a major edge in the career application process, whether earners choose to focus more on law or more on medicine, Walker said.
"There are a lot of lawyers who are working with healthcare, intellectual property having to do with healthcare and medical sciences," he said. "That's got to be a very attractive combination for a law firm looking for someone to do that kind of work. Having an MD and a JD, that would be huge. Putting it on the other side, if you're a doctor and want to get into hospital administration, there's so many legal issues involved."
Because careers requiring both JDs and MDs are extremely specific, Walker said he does not anticipate a large number of students participating in the program.
"It's quite a commitment, six years, but there are some students out there that have a very specific interest in which they need both degrees," Walker said. "We thought we would provide them with that opportunity…We don't expect to have hundreds of students doing this, but for the select student, it makes a lot of sense."