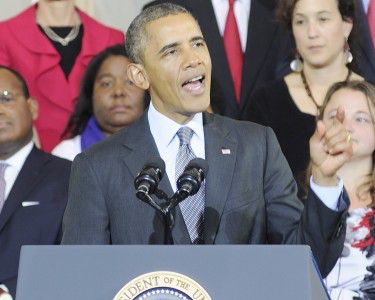 With the rising tuitions of academic institutions such as Boston University making college degrees an unattainable dream for low-income students, President Barack Obama and First Lady Michelle Obama held a summit to address college affordability Jan. 16.
The summit, which was attended by over 100 university and college presidents, sought innovative solutions to increase the accessibility of higher education to students from low-income backgrounds.
"At this point, higher education has to look very carefully at how it's going to provide access to people who have different needs … because at present, private education is unaffordable to significant groups of the population," said School of Education professor Evangeline Harris Stefanakis. "That makes it almost unattainable … It's critical that we have a national summit with the presidents of universities and the president [of the United States] to think about what creative solutions they can offer."
Obama, while congratulating university leaders on the strides they had made in assisting students from low-income backgrounds with financial aid, encouraged institutions to develop more methods of making college education a realistic possibility for disadvantaged students.
"We still have to do more training and development, and ensure that the curriculums are ones that maximize the chances for student success," Obama said during the summit. "When young people are properly prepared in high school, we've got to make sure that they can afford to go to college."
Stefanakis suggested universities forge outside of the traditional financial aid systems to develop strategies for ensuring that disadvantaged students not only gain admission to college, but also finish their education.
"It needs to be considered in terms of not just a financial aid structure, but that we actually have programs that allow more people to finish," Stefanakis said. "For example, if someone were able to commit to a two-and-a-half year thing and they could work while they went to school."
Vice President for Enrollment and Student Affairs Laurie Pohl said BU strives to ease the burden of finances for students who are qualified and may struggle to afford the tuition.
"We give out 25 full tuition scholarships each year," Pohl said. "It is full-need based and we don't make them take out any loans … If you get in and we cannot give you enough money, it's disappointing … If you can't get your finances together then it can be difficult, so we have programs that help to lower and, if not, remove, that barrier for coming to BU."
Madison Bouldin, a College of Arts and Sciences freshman, said BU should take into consideration the financial strain they put on families who do not qualify for aid.
"My parents are at the cutoff where they earn just enough that we have to pay the full thing, but it really hurts us financially," Bouldin said. "… My dad is unemployed, and my sister is also in college. My mom has to pay for both of us, and it's a lot."
Natalie Fritz, a College of General Studies sophomore, said she thinks BU should publish a comprehensive list of how each student's tuition is spent.
"They [BU] could allocate differently to reduce costs, just like smaller fees where we don't even know what we're paying for," Fritz said. "One thing I think they really should do is publish a list of everything we're paying for because we don't even know. It would give us a more realistic look at we're actually paying for."
Alyssa Ciofani contributed to the reporting of this article.