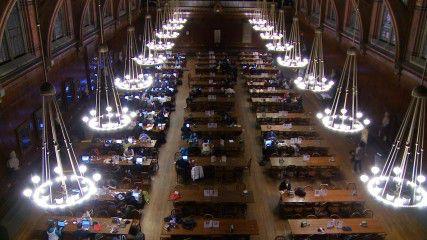 As college students shell out thousands of dollars in tuition for colleges such as Boston University in hopes of gaining a degree, a new documentary explores whether the four-year struggle is worth the return on investment.
Filmmaker Andrew Rossi's groundbreaking documentary "Ivory Tower," which premiered at the 2014 Sundance Film Festival, evaluates the necessity of a conventional undergraduate education, with its exorbitant prices and financially hungry leaders, while presenting more economical alternatives for higher learning, according to the Sundance Institute website.
"Based on the reviews, the news articles, and the poster for the movie, I would say that the producer has tapped into a national concern that is of critical importance to all Americans," said Garland Waller, a film and television professor at BU's College of Communication.
"Whether they are in college, thinking about going to college, sad that they didn't get to go to college, or Bill Gates, who clearly hasn't missed the benefits of college. The documentary is not overreaching. Not by a long shot."
The documentary taps into the reality that although college degrees from prestigious universities are essential to many careers, numerous college graduates are unemployed and in debt from the expenses of their degrees.
COM professor Debbie Danielpour, who also teaches in the film and television department, said the documentary weighs whether a college education is necessary for everyone.
"My personal exploration has shown me that a four-year research university, particularly one that focuses on a liberal education, isn't the ticket to success for everyone," Danielpour said. "… I believe academic freedom and innovation are possible without this expensive burden that often results in faculty who feel unaccountable for the quality of their teaching and service to the university."
Waller said it is the documentarians responsibility to expose society's fixation on superficial rating systems that permeates higher education today.
"Since the mainstream media has a tendency to be more concerned about ratings and numbers, as a society, we need independent documentary producers to help us explore social justice issues," she said. "… This is a CNN production, so it's not a true indie, but somewhere along the production line, many people realized that a documentary on this subject would resonate with the public."
Documentaries such as "Ivory Tower" are successful when they challenge ordinary ways of thinking through a creative and intriguing conglomeration of research, conversations and expressions of concern, Waller said.
"The goal of documentary producers is to explore, to challenge, to ask viewers to consider new ways of thinking," she said. "Good documentary producers are people who dig deep into research, pay close attention to personal and political conversations, and try to think of ways to share concerns about issues in a manner that is visual, moving and thoughtful."
Olivia DeFrances, a College of Arts and Sciences sophomore, said she initially decided to attend college without having an idea of what she wanted to gain from her education.
"I'm not sure if it's worth it," DeFrances said. "I'm not sure what I want to do after school, but I felt like college was the only option. I didn't want to work after high school, so I figured I'd just go to college and figure out something eventually, but I haven't yet."
Annie Adelsberger, a School of Education sophomore, said while a college degree is valued among employers, traditional college settings or not the only place to receive a higher education.
"Employers look to your education background as a basis of whether or not they would like to hire you for a job," Adelsberger said. "… Personally, I don't think traditional private or public college is the only place to go for higher education. It's just too bad that it seems as though people believe that it is."
Brian Boman, a CAS junior, said a college education is valuable in teaching young adults to think critically and seek out alternative sources of knowledge.
"A college degree is a good way to rid yourself of ignorance," Boman said. "That's not just something that takes place in college, that you get informed, but college is really a great place to become aware of different outlets for knowledge."