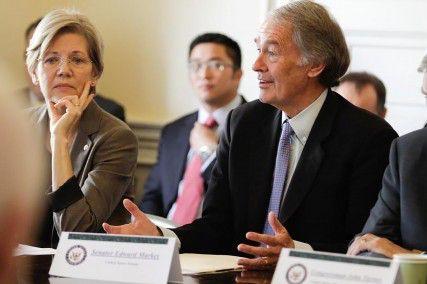 U.S. Senators Elizabeth Warren and Edward Markey applauded the U.S. Fish and Wildlife Service Thursday for awarding a $1 million grant to Harwich and Chatham, two towns on Cape Cod, to conserve coastal wetlands.
Grants went to 12 states and Puerto Rico, totaling $16.5 million, as part of the National Coastal Grants Wetlands Conservation Grants Program. In addition, state and local governments, private donors, conservation groups and many others will be contributing $18.2 million to cover the work that the projects will entail to provide a permanent solution for marine life and their habitats.
U.S. Secretary of the Interior Sally Jewell said although coastal wetlands provide key habitats for fish and wildlife, they also improve water quality, provide flood protection and support local economies.
"These grants, funded through excise taxes paid by anglers and boaters, give us the opportunity to join with states and territories and other partners to conserve and restore these areas that are so vital to our environment and our quality of life," she said in a Thursday release.
Multiple public officials in Massachusetts announced their approval of this grant and its importance for the future of Cape Cod, including Warren and Markey.
"Protecting Massachusetts' wetlands is good for the environment and good for our local communities," said Warren in aFriday release. "Wetlands help improve water quality, reduce flooding, and provide for a diverse natural habitat. This USFWS grant and significant partner funding will go a long way toward strengthening wetland conservation on the Cape."
Markey, who has made climate change and the environment a priority during his time in office, said the wetlands are vital for more than just the coastal regions.
"Massachusetts relies on its wetlands for everything from fish to flood control," Markey said in the release. "As the climate warms and storms intensify, we need to be even more diligent about protecting and restoring our wetlands so that they can protect us. I applaud the USFWS and partner agencies for this forward-looking project."
Another official, U.S. Rep. Bill Keating, said preserving these habitats has a lasting importance. During his time in office, he has written and passed legislation to protect Massachusetts's lakes, streams and wetlands.
"With this award, USFWS has demonstrated its shared commitment to projects that will bring long-term viability to our communities," said Keating in the release. "This funding is a direct investment that will go beyond Harwich and Chatham; tourists and Massachusetts residents alike will benefit from this dedication to coastal wetland conservation."
Several residents said the grant going toward Cape wetlands is a good investment, and despite being a tough undertaking, would be worth it in the end.
"Some people may not be environmentally active and may not really care about protecting animals and their habitats, but it will benefit our communities as well," Steven Bureau, 43, of Back Bay. "This will protect coastal cities from flooding without man-made objects."
Andrew Clayton, 75, South End, said the Cape wetlands are a waste of investments.
"If we take ourselves out of the picture, these wetlands may indeed end up being eliminated," he said. "But looking at the past, I think we can see that it's hopeless to fight what naturally happens, which is climates and habitats coming and going."
Yinzhi Cao, 28, of Boston, said conserving these habitats will be a valuable investment for the future.
"We need to protect the habitats that remain," Cao said. "Our constructions have invaded their habitats, so it's our duty to maintain the ones that we have left. Some people may feel that we're trying to fight the course of nature, but even if that is the case, we have to at least try and let future generations deal with that."