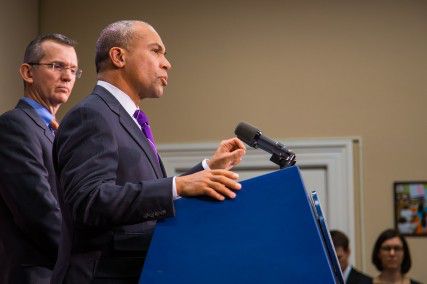 Mass. Gov. Deval Patrick gave his final State of the Commonwealth speech Tuesday, focusing on keeping issues like education, raising minimum wage and job growth at the forefront of the administration's agenda in the upcoming year. 
Patrick started his speech by reflecting on all hardships through which the state has persevered during his term and emphasized the unity the people of Massachusetts have shown.
"I expected to face economic challenges, but not a global economic collapse," he said. "I expected to find a sub-par transportation system, but not a bankrupt and dysfunctional one. I expected to face public safety challenges, but not the failure of a key water supply, a tornado or a terrorist attack. We have faced up to these challenges, and many others, together. And it has made a difference."
Patrick spent most of the speech reflecting on past successes and how well Massachusetts citizens had come together in times of tragedy, as well as motivating the Commonwealth to work together for more progress in the future.
"One of the biggest challenges for Patrick in this address is convincing the legislature and the public that he's still relevant," said John Carroll, Boston University mass communication professor and political strategist. "Patrick is very vocal about how he's not going to fritter away his final year, so he wants to devote this year to assembling some sort of legacy that he'll leave behind."
Carroll said he is critical of multiple aspects of Patrick's legacy, and said the final State of the Commonwealth address was an opportunity for him to redeem himself.
"To some degree he's been a bit of an absentee governor," he said. "You have a number of things where he's come in after the fact and tried to do damage control … he'll try to paint a picture of having achieved good things for the state and having the opportunity to do more good things for the state before he leaves."
In his address, Patrick said his term is marked with much success, including educational progress, innovation and infrastructure. He also praised the Commonwealth's strategy toward achieving this. He cited the increased time and monetary investments, teamwork and governing for the long term as reasons for the progress.
Additionally, Patrick affirmed what still needed work and how he planned on beginning that work during the closing of his term. He emphasized eliminating achievement gaps, socioeconomic gaps, violence and changing society so that everyone has the opportunity to be successful.
"For too many of our neighbors, the American dream is in trouble," he said. "[We] have a solemn duty to help all our people help themselves … the single most important solution is economic growth, growth that reaches out to the marginalized [and]  not just up to the well-connected. An expanding economy … needs inventors and innovators and investors, techies and carpenters, teachers and cooks, Ph.Ds. and plumbers."
Noting the 2013 Boston Marathon bombings, Patrick said he was proud of the kindness and grace displayed during the aftermath of the tragedy.
"I still believe all this and more reflects the best of who we are," he said. "These are the people who showed the world and each other what a strong community looks like. These are the people, and this is the community, for whom I have brought for the last seven years, and for whom I will bring until the very last day, the best that I have and the best that I am."
Patrick said Massachusetts must recommit to reforming education, continuing innovation, and investing in the economy through science, technology and manufacturing.
"Our growth strategy is wise, our execution is collaborative, and our eye is on the future. Let's continue that progress in 2014," he said. "Progress on any of these fronts, whether on legislation, on investing or on reforms, will like always take working together, and elevating the public good above all."
In concluding his speech, Patrick called on the people to do their part and said it is even more possible for them to get involved now due to the transparency of the government.
"I challenge all citizens to consider what they can do to make our Commonwealth stronger," he said. "We have put every element of the budget and the state's checkbook on line for anyone to see. All this and more is about making government more accessible for you to shape and to strengthen — the way a democracy is supposed to work … Now is no time for valedictories. We have work to do. Let's get to it."