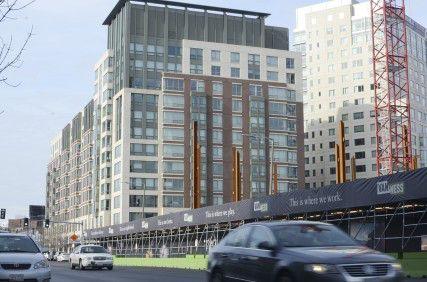 Despite a decrease in single home sales at the end of the year, condominium sales rose 6.8 percent in 2013, with 20,322 units sold, the Warren Group announced in a report published Thursday.
Tim Warren, chief executive officer of the Warren Group, said the numbers for single home sales look disappointing, but the percentages of increase at the end of the year showed improvement.
"If you look at November and December, compared to the prior November and December, we had fewer homes sold and fewer single family homes sold in those two months this year than we did last year," he said. "Those two months follow four months that were extraordinarily strong, so the year ended with gains of about 5 percent in the number of homes sold and about a 10 percent gain in the median price."
The Boston-based financial and real estate information company reported a 15 percent condominium sale increase from Dec. 2012 to Dec. 2013 with 1,614 condominium units sold in Dec. 2013.
The slowing market is not unexpected to see in the winter months. The summer months traditionally bring higher sales, while people use the winter to plan for spring sales, he said.
"If I'm right, there will be a lot more homes for sale this spring," he said. "That will help to moderate the increases in price. The gains in prices would be more modest and that'd probably be a good thing for everybody but the homeowner."
While single home sales faltered in Nov. and Dec. 2013, these homes were staying on the market for an average of only 99 days in 2013, compared to 126 days in 2012. Condominiums were on the market for 81 days in 2013, a 33-day decrease from 2012, the Massachusetts Association of Realtors announced in a report Wednesday.
"Typically there are more single-family homes than there are condos," said Immediate Past President of the MAR Kimberly Allard-Moccia. "That may just be a function of the available units­—some areas that are heavily concentrated, like cities, have more condos than they do single-families."
Charles Eisenberg, an adjunct professor at Boston University's Center of Professional Education's Real Estate Studies, said the rise in condominium popularity is a function of several factors.
"For some people it is a lifestyle or locational decision," he said. "This is particularly true for empty nesters. For others, condominiums have become the current version of the starter home. The high end expensive condominiums provide premium space and location with amenities and services that are not available to single-family homeowners."
Eisenberg also said the effects of supply and demand can have an impact on sales and prices.
"It is this excess of demand that that accounts for the fact that sales have dropped but prices have not," he said. "Mortgage rates have also increased over a year ago, pricing some people out of the market. The economic statistics for Massachusetts over the earlier part of 2013 were not strong and that may have frightened off some potential buyers."
Bob Terrell, executive director of the Fair Housing Center of Greater Boston, said he has similar concerns about the effects of supply and demand on the housing market, though he doesn't think higher supply will be the market's magic bullet.
"Some people see that as a market-based problem that'll just be solved by dumping more units on the market," he said. "That'll get the rents and the sales prices down. That has not been true if you look at the economic history of Boston. We've had major real estate booms in the late '80s where production was up and costs and prices went up as well."
Terrell said he does not discount the need for more housing in general, especially around the areas that need more affordable units.
"The major crisis in the city of Boston is that we still do not have enough affordable housing," he said. "Supply is beginning to pick up a bit…but it's still not meeting the need. Outgoing Mayor Menino said we needed 20,000 units over the next decade. [If that's going to happen], housing production's going to have to pick up a lot more."