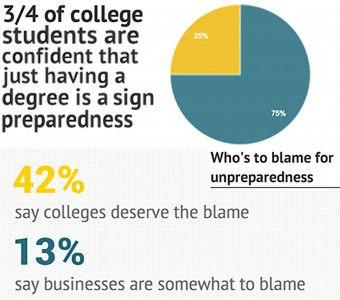 As millennials forge through the post-college career crawl, a recent study suggests they my lack the preparedness employers look for in their respective fields.
The study, part of the PreparedU Project at Bentley University in Waltham, focuses on finding solutions to the preparedness issue in light of the high unemployment amongst recent college graduates and the perceived skills gap.
"More skilled workers tend to suffer less from unemployment than do less skilled workers," said Kevin Lang, an economics professor at Boston University's College of Arts and Sciences, "That means that it is particularly tough to get a job if you don't have experience or if you lack a good education. Students graduating in a poor job market suffer, and the evidence suggests that the adverse effects are long lasting."
Although many college undergraduates today feel prepared for the employment environment that they are studying to pursue, the study shows the disconnect between the beliefs of millennial and other non-millennial members of the business community on important issues, said Bentley Chief Marketing Officer David Perry.
"Millennials and business leaders define workforce preparedness differently," Perry said. "Business leaders are much more likely to define preparedness as 'work ethic.' They also disagree strongly about whether millennials actually have a strong work ethic – millennials believe overwhelmingly that they do; non-millennials believe overwhelmingly that they do not."
Alvaro Dafonte Imedio, a CAS freshman, said stereotypes about millennials hinder their progress in the workforce.
"I understand that there might be a generational gap, but there's so much hate thrown at millennials," he said. "We're under pressure when it comes to our abilities and we're given a bad reputation that makes it hard to go get a job."
Other students said they noticed the disconnect between what millennials and other business professionals consider preparedness. Margie Iselin, a College of Communication sophomore, said potential employers still value skills, but nowadays they place more emphasis on work ethic and experience.
"Businesses judge work ethic through your academic record and GPA, but that shouldn't be everything," she said. "They should also consider interviews and good references that show you're going out there and trying to get a job."
Everyone, has a role to play in closing the preparedness gap, Perry said. For millennials, that may mean remaining open to learning more.
"For millennials, this means committing to being lifelong learners, both inside and outside the classroom," he said. "Millennials face one of the most difficult paths from college to the workforce of any generation in decades, but if we all work together, this challenge is solvable."
Lang works with his students to develop marketable skills they can apply to jobs that interest them to prepare them for the competitive, contemporary job market. His advice for millennials is to know how to take rejection, but work to overcome it.
"I always advise students that job hunting is a lot like dating," he said. "You should expect to be rejected a lot, but if you approach someone with that expectation, you will be rejected. So you have to prepare for each application and put your best self forward."