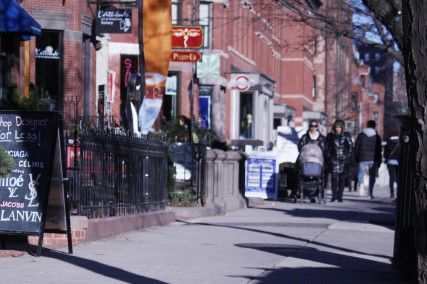 Five new stores signed leases on Jan. 27 to move onto Newbury Street, including Shake Shack and Claire's, joining the other 28 properties belonging to Jamestown's Newbury Collection.
Jamestown, an investment and management firm that focuses on high-quality income-producing properties, owns and manages the Newbury Collection, which is home to 33 retail and residential properties on Newbury Street. The other new stores moving to the high-end shopping street will be Blue Mercury, a luxury spa; MakerBot a 3D printing company; and Dry Bar, blow dry hair salon.
"The Newbury Collection is representative of the flourishing commercial property submarket in Boston's Back Bay," said the Jan. 27 press release.
Jamestown has invested about $4.8 million in development projects on Newbury Street, according to the release. Although Jamestown announced the signed leases on Jan. 27, all the stores have varying opening times, with the latest being Shake Shack in the summer.
Alli Webb, founder of Dry Bar, said having a location on Newbury Street would enhance her clientele and be a wonderful atmosphere for her salon.
"It was very clear to us that the Dry Bar client, a savvy, fashionable sophisticated woman who cares about her appearance, lives in Boston and shops on Newbury regularly," Webb said. "We've wanted to be in Boston for years but were just waiting for the right moment."
Webb also said her salon is vastly different from other hair salons and Newbury Street is the perfect setting with all the other exclusive boutiques on the strip.
"We humbly believe that the Drybar experience is different and unique from anything else around," Webb said. "I don't want to divulge all our secrets, but will tell you that Drybar looks, feels and smells nothing like a traditional salon . . . Our Newbury shop is quite unique in that it is on three levels, which I absolutely love. We also managed to preserve many of the historic elements, such as an original brick wall, which we had never done before."
Greg Waters, senior manager of marketing and communications at Shake Shack, said that Newbury is an incredible location for a one-of-a-kind store.
"Boston is an amazing city," Waters said. "Opening on Newbury Street will truly put us in the heart of Boston. We're excited to further our commitment to Boston and deepen our relationship with the local community."
Waters described Shake Shack as a "modern day roadside burger stand," and said the restaurant would contribute to the Newbury Street community with its sustainable practices, among other benefits.
"We work hard to connect with the local community in positive, meaningful ways," he said. "…our Newbury Street Shack will be built with recycled and sustainable materials including FSC certified chairs and booths, tabletops made from reclaimed bowling alley lanes, and more."
Some residents said they are looking forward to the new shops opening on Newbury Street because it is such a frequently visited area of the city.
"Newbury is one of the most shopped streets of Boston," said Katie Powell, 29, of Boston. "It's a really fun experience because the shops are so different, and it sounds like these new stores will definitely be living up to the standard. "
Other residents said the Newbury Collection should contribute more than just shopping and restaurants to the district.
"Newbury Street is really great because they have a lot of clothing stores and a lot of restaurants," said Denise Landreth, 21, of Brighton. "I have been to a lot of [the shops on Newbury], and they are all very local — not chains. But I think more arts and creative centers or something of that sort would add a lot to the area."
Gerry Duroseau, 49, of Brighton, said Newbury Street is a very pricey district and more laid-back stores like Claire's and Shake Shack in particular will be valuable additions.
"[Newbury] is not my kind of scene … it seems nice but it's a little pricy for me," he said. "I think Shake Shack and other stores of that caliber will do well there because they will appeal to people who can't really afford most of the other shops on that street."