If the Boston University men's hockey team is going to make it to the Beanpot Tournament final, it is going to need to do something it has not done in two tries this season — beat No. 2 Boston College.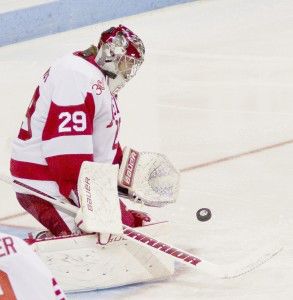 The Eagles (19-4-3, 12-1-1 Hockey East) have outscored the Terriers (8-14-3, 3-8-2 Hockey East) 11-5 this season, and have won each of the last four Beanpots — beating the Terriers in overtime two of the last three tournaments. Even with the tournament favorite in front of them, though, BU coach David Quinn said he has confidence that his team can make it through his team's rival.
"It can absolutely happen," Quinn said. "It was a hockey game last time we played them, relative to the first time we played them where I thought we were in fear. We played afraid. I don't think we are going to play afraid tomorrow night."
That last game Quinn was referring to was a 6-4 loss for BU at Conte Forum, where the Terriers scored twice in the final 10 minutes to pull within a goal of the Eagles. However, a backhanded empty-net goal from center ice by BC forward Johnny Gaudreau gave BC the insurance it needed to complete a 6-4 win.
Gaudreau, a Hobey Baker award favorite, is riding a 21-game point streak and has thrived since being put together on a line with senior forwards Kevin Hayes and Bill Arnold. He has five points (three goals, two assists) in two games against the Terriers this season.
"You're never going to contain him," Quinn said of Gaudreau. "You've got to minimize his impact throughout the game if you can. Don't let him make a 'wow play.' When he can make a 'wow play' it can demoralize your team."
The Terriers may have a little help on the way in terms of BC's personnel, though. According to a report from BC Hockey Blog, freshman Ian McCoshen, who is a plus-21 on the season, will be out for Monday night's game. Hayes, who is an integral piece to BC's top forward line and has 45 points on the season, is questionable with a hip injury.
BU enters the game coming off a disappointing 3-3 tie with the University of Massachusetts-Amherst, in which it surrendered the game-tying goal with less than a minute remaining. Sophomore goaltender Matt O'Connor proved he is ready to step back into a starting role, making 46 saves in the tie after fellow sophomore netminder Sean Maguire had started the previous four contests.
"We all know what Matt can do, he has proven it over and over again," Quinn said. "I feel very comfortable in the most important position in all of sports."
BC, on the other hand, took care of No. 7 Providence College on Friday with a 2-0 victory. Goaltender Thatcher Demko made30 saves for his first career shutout, while Gaudreau tallied his 23rd goal of the season.
This Beanpot will be the first for senior forward Matt Ronan, who has watched the games from the press box in each of his first three seasons with the Terriers. As a Woburn native and brother of former Terrier Dan Ronan, Matt knows the significance of the Beanpot and said he is "beyond excited" to play Monday night.
"I have 20 of my closest friends that I grew up playing with going, and then probably everyone I've ever met in the hockey world from Massachusetts is going," Ronan said. "I think it's knowing that they're going to see me out there, and I'm excited to put on a show for them I guess."
After the team's final practice before the the Monday night game, Quinn said he emphasized the importance of staying focused and confident.
"I just said, 'This is why you come to schools like BU," Quinn recalled. "It's a great opportunity, you should be excited. Believe that you can control your own destiny. Just live in the moment."