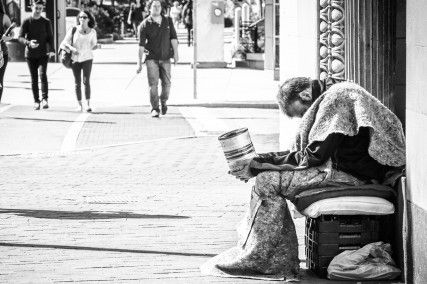 With a record-breaking number of homeless children in Boston, the Boston Public Health Commission reported Friday that homelessness increased by 3.8 percent in 2013.
Boston's 34th Annual Homeless Census results, which were gathered on Dec. 16 by city officials, community leaders and more than 350 volunteers, found 7,255 homeless people in Boston, 233 more than 2012. Of the homeless, 2,056 were children.
"The things we found most alarming were the increase in family homelessness and children homelessness," said Nick Martin, BPHC communications director. "For the first time since the city has been doing this census, we found over 2,000 homeless children, so that was very disconcerting for us."
Compared to other large cities, Boston has fewer homeless adults living on the street, Martin said. This year's census found that the street count made up 2.5 percent of the homeless population.
"When you look at a homeless population of over 7,000 people, and you have 180 people living on the street, that's a relatively small number," he said. "Obviously, we'd like to see that number be zero, but a lot of other places have a larger issue with street homelessness."
In response to the numbers of the 2013 census, Boston Mayor Martin Walsh announced a multi-step plan to decrease homelessness in the city in the following year.
Through a collaboration of city agencies, property management companies and nonprofit partners, Walsh  said he hopes to cater to the individual needs of the homeless and help them find affordable and permanent housing.
"These numbers are very troubling, and paint a stark picture of vulnerable populations in our city," he said. "Major cities around the country are seeing these kinds of increases, as rents go up and incomes don't. My vision for Boston is that we want to be a City that works for all of our residents, where stable families have safe and stable housing, in stable neighborhoods. I am asking our whole community to work with me and rally around these issues."
Pine Street Inn, the largest homeless services organization in New England, has been part of a continuing effort to decrease homelessness in the city. In the following year, they plan to partner with city agencies to provide emergency shelters, job training and permanent housing.
Barbara Trevisan, a spokesperson for Pine Street Inn, said every person is different, and their various circumstances must be taken into account when looking for solutions.
"We certainly are looking at the big picture," she said. "We know what strategies work, but it's important to work with each individual to find out how they came to be homeless and how we can ensure the best outcome for each person."
Several residents said they are concerned with the increased homelessness numbers in the city, especially in the winter months.
Katrina Baskin, 52, of Dorchester, said shelters must be improved for families to create a safer environment for children.
"It's really concerning that people don't have homes," she said. "From hearing things about people being in [the shelters], there are some criminal elements around them, and it's not safe for children. They need to be made safer. So [the shelters] aren't great, but as long as the city is putting them somewhere, it's better than them being out in the street."
Joe Magen, 38, of Boston, said job training is an important investment for the homeless, but the city should focus on helping the homeless people who travel in groups or those who do not reach out for help.
"Job creation could be good," he said. "At the end of the day, I don't know if there's that much that can be done. There's a lot of [homeless] people here that are not organized in what they're doing. There are gangs of people that sit out there for hours. It's hard to weed out the people who need help."
Heather Tifrere, 54, of Dorchester, said she moved in with her mother two years ago, after her apartment burned down and she lost her job. Her son, 21, is currently living with his girlfriend.
"Red Cross didn't really do anything," she said. "They gave me $50. Then, I went to Boston Housing, and I've been on the waiting list for almost a year-and-a-half now. I went to two places to see if I could get into a shelter for me and my son, and they both told me they are only catering to mothers with young children, not adults with older children. Nobody seemed to care. It's bad in Boston, and nobody seems to care."