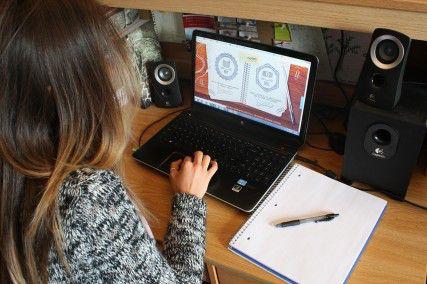 Flashnotes, a website that allows students to buy notes, study guides and flashcards created by other students, announced Monday that it has raised $3.6 million with its addition of two new investors.
Created in 2010 as a senior class project, the company has been working with Atlas Venture and Soft Bank Capital since 2012. They began collaborating  with Runa Capital and Stage 1 Ventures two months ago. The four investors, along with the help of family and friends, has helped Flashnotes raise $5.1 million since 2009, said CEO and co-founder Mike Matousek.
"I was never the smartest student, but to be able to connect to people in a way that made things make sense to me was a really exciting thing," he said. "It turned into a business and it just inspired us and kept us going for the past three-and-a-half years. The difference it makes for students is really what drives this business."
After landing its first investor in 2012, Matousek moved the company to Boston and brought in a team to help the company grow. The $3.6 million raised in Series A will help Flashnotes spread to colleges across the country, Matousek said.
"What it comes down to is we raised $3.6 million for the company to not only continue to build the infrastructure of the company, but to scale this to additional campuses," he said. "As for anything, it takes money to be able to build something. It gives us the opportunity to introduce this concept to not only core schools but additional companies that we're really focused on."
Matousek said the goal of Flashnotes is to share knowledge and give students the opportunity to work together.
"At the end of the day, students go to school for many different reasons, but the main reason is to be successful in their career afterwards," he said. "We hope to be a vital resource in helping them get there, and we hope that we'll be able to work directly with the universities and students and fulfill any need that there may be."
Susan Akram, a law professor at Boston University, said students should be careful that they only use the website for sharing knowledge, not for using another student's ideas without proper citation.
"We certainly allow students to share notes in class and there's no restriction with sharing notes with people outside of class, so if it really is restricted to note sharing, I can't see there being a problem, unless it is used for publication or papers without attribution," she said. "I would hope that if this is being made widely available, someone would check with the professor to see if it's ok to have their opinions and views in a place where they did not expect them to be published."
Leonid Reyzin, a computer science professor at BU, said he encourages his students to share notes and study class material together. This website simply furthers students' access to the resources they need.
"If you're sharing solutions that you aren't supposed to share, that's a bad idea, but if you're sharing knowledge you gained from the class, I don't see that as a bad thing," he said. "As a matter of my own policy, all the lecture notes that I have time to write up are available online. I want the things that I teach to be available freely online."
College of Arts and Sciences junior Nicole Fernandez said she would not feel comfortable submitting her notes for other students to purchase.
"Those are notes that I worked very hard for," she said. "I feel as though the people who would be using those would be people who haven't been at class or are trying to take the shorter, easier route to get a decent grade in their class. If it were for people who struggle with taking notes or if they just need the extra information, that'd be something else, but you can't differentiate the two."
Daniela Amaya, a College of Communication sophomore, said Flashnotes could serve as an innovative tool to help students learn outside of the classroom.
"For the most part, if they feel that confident in their notes that they feel other people would benefit from them, that's a pretty good thing," she said. "A dissemination of knowledge to other people and helping other people out seems like a good idea to me."