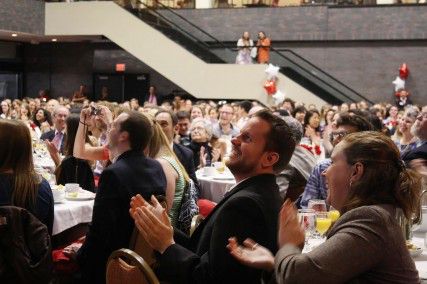 To send Boston University seniors off in a more meaningful and memorable fashion, the Student Activities Office has extended the length of what was formerly known as Senior Week to include more activities.
The new lineup of activities is called Senior Semester, said SAO Associate Director Raul Fernandez.
"We know that in the fall we focused more on welcoming new students to the family, and for spring we want to have that same effort toward sending our seniors off in style, so they know that we love them," Fernandez said. "It's been a great experience having them on campus, and that we want them to stay connected to the university."
During Senior Semester, students will be given opportunities to participate in events and receive special promotions throughout the semester leading up to the traditional Senior Week of events.
"Every year we try to get better at what we do," said Assistant Dean of Students John Battaglino. "[Senior Semester] is in a way that does not interfere with academic pursuits … We try to send off our seniors [by saying] thanks for being here, and here's some things you probably should've done over your four years that you haven't had a chance to [do]. We're going set it up for you."
With heavy student feedback and collaboration already pouring in from the Class of 2014, student participation is already off to a strong start, Battaglino said.
"I meet regularly with the student government president, Dexter McCoy, and people on the inside [of SAO]," he said. "We held a kind of impromptu, fact-finding event at the BU Pub where we invited seniors to give us their thoughts about senior week … There's just not enough in a week, and there were other things they wanted to do. We came up with the idea based on their input."
Some of the Senior Semester events include the 121 Days Party, which took place Jan. 16, a night at Foxwoods Resort Casino, a senior arts reception at Isabella Stewart Gardner Museum and a concert featuring musical artists Matt and Kim, Battaglino said.
SAO officials created the Senior Semester agenda to appeal to the diverse interests of the student body, Fernandez said.
Senior Week events, which will take place from May 10 to May 15, include a harbor cruise, House of Blues concert, trip to Six Flags New England and Senior Bash.
"Some people don't like to go on rollercoasters, but [Six Flags] is one of the most popular events that we do," he said. "For others that are looking for a dance party, they might want to look into the House of Blues event. It really depends what you're into and there's plenty of options between now and the end of the semester. There's something for everyone."
Robyn Shibano, a College of Arts and Science senior, said extending the week to a semester creates more opportunities for seniors to forge deeper bonds with their classmates.
"I like that it's been expanded throughout the whole semester because it allows seniors to experience more connections with their class," she said. "It's also more convenient time-wise because you get to do more."
School of Management senior Sarah Oh said although she likes the leisure activities SAO has planned, she would also like to see some inspirational speakers incorporated into the Senior Semester agenda.
"Concerts and other fun stuff are good, but we can do those on our own time," Oh said. "I want something that builds on who we are and where we're heading after graduation."
Monica Bautista, a senior in SMG, said SAO's efforts to communicate with the senior class when coordinating these events ensures their success.
"Talking with students is the best way to get ideas to create these events," Bautista said. "It's the students who are going. Their feedback is very valuable. Also, it can be used to measure the success of the events for future students and years."