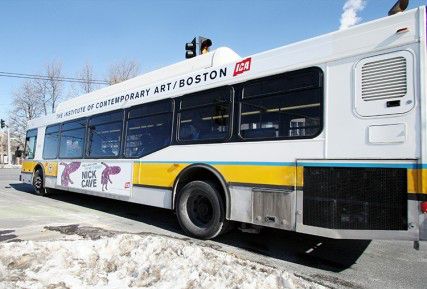 As the first step in an ongoing effort to protect residents and employees through video surveillance, the Massachusetts Bay Transportation Authority will be installing new security cameras on 225 buses throughout the city.
The project, which began four weeks ago, will be completed by the summer, said MBTA spokesman Joe Pesaturo. Additionally more than 200 MBTA buses will receive upgrades to their already existing cameras.
"The decision was made because the safety and security of both customers and employees are the MBTA's top priorities," he said.
The new cameras are funded by a $6.9 million grant that was awarded to the MBTA by the U.S. Department of Homeland Security.
These cameras provide a more sophisticated security system than the ones previously installed, with real time "look-ins" for personnel at the MBTA Transit Police headquarters, the Bus Control Center and police cruisers in vicinity of the buses, Pesaturo said.
Within the first month of the project, 12 cameras have been installed in MBTA buses. These 12 buses operate out of T's Cabot Garage and serve multiple routes throughout the system.
Randy Clarke, senior director of security and emergency management at the MBTA, said these new camera installations are the result of a proactive approach that will comfort MBTA riders and protect MBTA employees.
"Generally, we have a very low crime rate [on our buses]," he said. "But our riders are constantly asking us to make the place as safe as possible, so that is our mission. We've [also] had employees get assaulted by individuals. These type of video systems really help us forensically deal with those cases to help us identify someone and help criminally prosecute someone who assaults our bus operators."
Clarke said he hopes the cameras provide a deterrent effect that encourages people, who are considering criminal activity, to modify their behavior.
"This is a public bus on a public street, and all the initiatives are for public safety," he said. "Also, [there is a] forensic use. If there is anything, from a potential terrorism situation or criminal matter to a bus accident, it would help us in constructing the situation and preventing future criminal activity."
Several residents said the cameras will provide safety on the MBTA buses, but not everyone agrees that they are a necessary aspect of public safety.
Eric Hofbauer, 40, of Jamaica Plain, said the cameras serve an important security function, but they may not make a significant difference in MBTA crime rates.
"I don't think it's going to necessarily cut down on crime but it will help catch criminals if somebody gets mugged on a bus, or something like that," he said. "It's going to help solve crimes, but I don't think it's going to slow down or stop violence."
Josh Toth, 25, of Brighton, said the MBTA has good intentions for the cameras, but they are not worth the money.
"I could care less if they're watching me on a bus," he said. "It's not like I'm doing anything illegal. I can't imagine anyone can do anything that insane on 15 minutes on a bus. If the U.S. government gives the T money, they should be doing it to make the T better, not just to watch everybody."
Other cities and states have used security cameras to provide safety on public transportation, and Boston is the next in line, said Juan Venegas, 40, of Boston.
"I used to live in California, and [there], some buses have cameras, and they've actually caught criminals doing things to mentally disabled or handicapped individuals or assaulting the driver," he said. "I've seen it all over the news where these cameras catch people, so it's definitely important for safety."