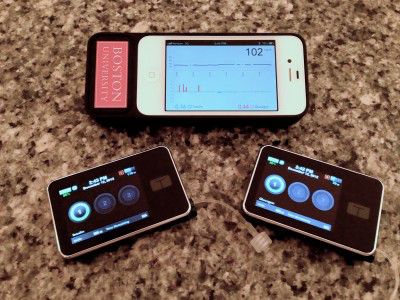 With the struggles of daily treatment weighing heavily on the lives of diabetics, researchers at Boston University and Massachusetts General Hospital have developed a bionic pancreas that will make diabetes treatment more efficient.
Envisioned by Edward Damiano, a College of Engineering professor of biomedical engineering, the device includes a blood glucose sensor and dual insulin pump that reduces the work of insulin measurement normally required of diabetics.
"The device is a mathematical algorithm that gets blood glucose information from a continuous glucose monitor and makes a decision on how much insulin or glucagon to give," said Steven Russell, a doctor from Mass. General working on the project. "It makes a new decision every five minutes: adding insulin to raise blood glucose or glucagon to lower it."
The glucose monitor functions with a sensor that sits around a centimeter under the patient's skin, Russell said. The device, which was originally tested on pigs, eventually moved to human testing in 2012 after Russell become involved. Researchers have completed five clinical trails, moving from hospital trials to outpatient trials, where patients used the device for five days.
"One of the studies was on adults who go through [live in] Boston, so we didn't restrict their exercise, activities or food," Russell said. "The study in kids was in a diabetes camp. In both circumstances, the bionic pancreas achieved excellent glucose control."
With the overarching goal of releasing the device for public use in 2017, the research group is proceeding with a home study trial, in which patients will use the bionic pancreas in a more realistic setting for a longer period of time, Russell said.
"The person will use a normal routine for two weeks a time while on the device," he said. "This will be a dress rehearsal for the pivotal studies, which will be needed to get the device approved to market. It's our goal to put something before the Food and Drug Administration … in 2016 so that we can have clearance to provide this device as early as 2017."
James L. Rosenzweig, director Diabetes Services and an associate professor of medicine at Boston University School of Medicine, said the bionic pancreas can help prevent complications with diabetes.
"It [diabetes] is a major public health problem associated with many health risks like heart attack, stroke and kidney failure," he said. "Half of all people on dialysis have diabetes. It also can lead to amputation. It's a very serious disease, but if you can keep your blood sugar in control, you can prevent the bad complications from diabetes."
Devin Steenkamp, a member of the Obesity Research Center and instructor at BUSM, said the device has the ability to revolutionize diabetes care. Traditional diabetes care requires patients to log their carbohydrate intake into an insulin delivery pump, which will not be necessary with the device.
"[Patients] don't have to worry about putting anything into a computer or calculating how many carbohydrates they're eating," he said. "They just live a normal life and the device takes care of everything else."