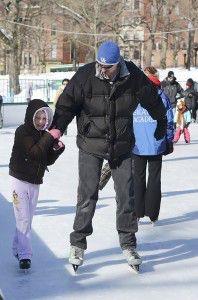 As part of the Home Base Program Adventure Series, which strives to reach out to local veterans and offer free recreational activities, military veterans gathered at the Boston Common Frog Pond on Monday to ice skate with their families.
The Red Sox Foundation and Massachusetts General Hospital Home Base Program, which hosted the event, also provides clinical care and support, as well community education about the effects of war and research in order to improve treatment and understanding of Post-Traumatic Stress Disorder.
Roger Knight, director of veteran outreach at Home Base, served in the U.S. Army Special Forces for eight years and said it is healthy for veterans to be able to meet and be supported by fellow veterans.
"We do these public engagements to get vets and families out to meet each other and it's a good way for them to meet with veterans in the community," he said. "We [also] have other support services out here if they need them. A lot of these vets have just come back from a deployment so for them to have a free family day, it's a big boost for them."
Knight said lighthearted activities such as free skating can often be more affective in grouping war veterans together than an event where people are talking about PTSD or traumatic brain injuries, for example.
"We thought, why don't we make these recreational activities and invite other services out, that way we can really speak to them on their own terms," He said. "It's been a little bit more of a successful model."
Travis Weiner, veteran outreach coordinator at Home Base, served in the army for eight years in support of Operation Iraqi Freedom and said the Adventure Series is continually very popular with the military community.
"We run these events about once a month," he said. "We always see good turn-outs … we actually routinely run a waitlist for these events. We do skating, skiing, duck tours, museums, sports games … that's kind of the whole spectrum of our events."
Boston Mayor Martin Walsh joined the veterans on Monday, welcoming them and thanking them for all they had done for the country.
"[This] is one of the perks of this job, to be able to come out and say thank you to the men and women who served our country, who allowed us the opportunity to have the Frog Pond here, to be able to skate and enjoy ourselves without having to worry about threats," he said.
Walsh said he has personally been ensuring that veterans have a voice in the local government by advocating for veterans in all his reforms, including employment opportunities, housing opportunities and campaigns against homelessness.
"I want to let you know that my administration is committed to making sure we improve the quality of life of veterans," he said. "We have made sure that everything we do, in my seven weeks as mayor, somehow ties into veterans. Just so you know that you are not forgotten and will never be forgotten in City Hall."
Many veterans attended the free skating at the Frog Pond and spoke of how appreciation for military veterans has definitely grown in recent years.
"It's great that they do this," said Arthur Katis, 41, of Brighton. "They've done quite a few events that we've gone to in the last year. We went to the Pawtucket Red Sox event, which was our first outing … this is our second. We're a big family, so this is helpful … I served for 10 years in the Air Force, and my wife also served."
Sam Hoy, 33, of Boston, said he consistently brings his family to Home Base's programs and even travels frequently to do so.
"My family and I have enjoyed the Run to Home Base at Fenway, we did Loon Mountain last weekend," he said. "I think quite a few veterans show up and I think the appreciation of vets is getting better — more and more every year."
There were also many first-timers at Monday's free skate, including Jim Conery, 67, of South Boston.
"I served in the Vietnam War," he said. "There definitely wasn't this appreciation for vets in my era, but it's growing … I actually just heard about this event, and decided to bring my grandson to it, but I think Home Base is definitely helping veterans feel acknowledged."