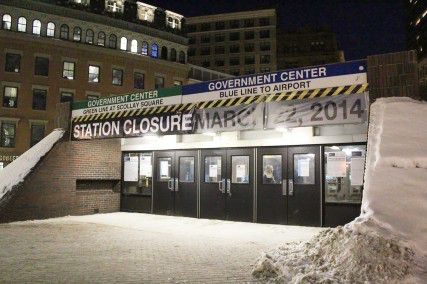 In an effort to make Government Center Station safer and more accessible to people with disabilities, the Massachusetts Bay Transportation Authority  will be closing the station on March 22 for two years for the Government Center Station Reconstruction Project.
Construction began on Nov. 18 with the reconfiguring of roadways and sidewalks. According to the MBTA website, Government Center Station will reopen in Spring 2016.
Government Center Station, which is currently only accessible by stairways and escalators, will receive improved mechanical and lighting systems, new escalators and new emergency exits. Elevators will also be installed to bring passengers between the Green and Blue lines or to street level.
While the Government Center Station is under reconstruction, the MBTA will operate a shuttle bus called Route 608 that will depart from Haymarket Station and make stops at State Street Station, Government Center Station and Bowdoin Station. The shuttle will operate seven days a week from 5:20 a.m. to 12:20 a.m. No fares will be collected.
Green line trains will continue to pass through Government Center, but they will no longer make station stops there. The Boston College B-Line, which runs through Boston University's campus, will now stop operating at Park Street.
The Cleveland Circle C-Line will stop at North Station and the Riverside D-Line will stop Park Street during rush hours and North Station during all other times. The E-Line will stop at Lechmere, the MBTA website said.
MBTA riders who need to get to the area around Government Center should get off the Green line at Park Street or Haymarket because both stations are within walking distance of Government Center.
Several residents said the reconstruction at Government Center station will be an inconvenience to anyone who needs to get to the Government Center area or transfer to another train.
Derek Montaque, 21, of Dorchester, said there are other ways for the MBTA to reconstruct the Government Center station without closing the entire station for two years.
"Government Center is historically a really important place, so to close it down would definitely take away a huge part of Boston as a city," he said. "They should probably extend the amount of years it takes to renovate it and just choose certain weekends to close it down, instead of just closing it all down at one time."
Dillon Mangs, 26, of Boston, said he uses the Government Center station to travel to work every day, and he will need to find a new way to get to work starting March 22.
"Taking the T every day to work, it's going to affect me a lot," he said. "That's usually the station I get on. Two years seems like a long time, so I don't know if it will necessarily be worth it. It just seems like a lot of people that will be affected by the closing at just that one station."
Adam Eagle, 19, of Back Bay, said the construction could create problems for some people, but the construction may be a needed improvement to the MBTA transit system.
"It could definitely disrupt some traffic, but you just have to deal with it," he said. "I don't personally use the stop very often, and there are stops that are close enough by that if the weather is at least mediocre, I could probably walk there. It's understandable that they have to do construction on the stop."