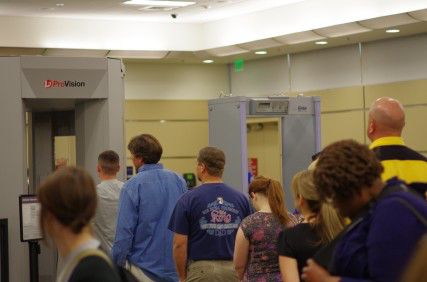 All airplane passengers, including students, now have the opportunity to apply for the Transportation Security Administration Pre-Check program, which expedites members through security without having them remove shoes or coats or having to take items out of their carry-on luggage.
Although the program has existed since 2011, it was previously only available to frequent fliers and members of Customs and Borders Protection's Trusted Traveler programs. Now, the TSA is working on opening 300 application sites across the country where the public can apply for Pre-Check. According to Ann Davis, TSA spokesperson, 198 sites have been opened including three in the Massachusetts towns of Dorchester, Waltham and Pocasset.
"The agency has been trying to move away from a one-size-fits-all approach to screening for many years and the TSA pre-check program allows us to focus more of our resources on passengers that we know less about," she said. "Pre-Check passengers are folks who have provided us with some details about themselves as well as their fingerprints, so we feel comfortable giving them an expedited screening."
Secretary of the Department of Homeland Security Jeh Johnson said these application centers help further the TSA's mission of protecting the public.
"A key part of the DHS mission is the important work TSA does every day to protect the traveling public," he said in a Jan. 15release.  "The expansion of Pre-Check to the nation's busiest airports — along with these new application centers — will increase our security capabilities and expedite the screening process for travelers we consider to be our trusted partners."
With these new application centers, people can go online and begin the application process then go to the nearest center to finish the applying by giving their fingerprints and paying an $85 fee for a five-year membership to the program.
Homeland Security expert Anthony Amore, lecturer of Homeland Security at Fisher College, said this program is a great idea and it will help the TSA concentrate its resources on riskier persons.
"The key to this program is that it takes the focus off the objects the people are carrying and more on the people themselves," he said. "It's a better way to look at risk. You know, a knife in an innocent person's hands is an innocent instrument … When you're able to focus your attention on people who might be more risky, you're focusing your efforts in the smartest way possible."
But Amore did acknowledge the opposing argument. He said the TSA Pre-Check could potentially allow terrorists and other dangerous individuals to have less security screenings.
"There's no such thing as 100 percent security, so they're always taking a risk … they could be expediting someone who means harm but [the government] doesn't know much about them," he said. "But that person poses the same risk with or without pre-check. So this just gives us a better impression of who people are."
Amore said the program encourages passengers to give the TSA more information about them, allowing security to form a better approach in identifying where the real risk lies.
"It strengthens the security and helps the people who are doing the screening to focus on lesser known people," he said. "People who are not signed up for this program will still get the same level of security and people who are signed up for this program, the TSA will have a better idea of who they are and what type of risk they represent."
Some residents said this program could have many bad consequences because background checks are not always effective in predicting future behavior.
"First of all, I don't think [it's] secure enough," said Fernando Serrano, 39, of Brighton. "The background check should be much more extensive. Just the other day, somebody hijacked a plain overseas because they wanted to get amnesty from another country, I'm not sure of the details, but if someone can so easily do that … there's no reason to cut down on the security for anyone."
Diana Atansova, 27, of Mission Hill, said she would take advantage of it and thinks it will actually improve security measures.
"I would definitely go for it," she said. "Being able to thoroughly check all passengers isn't feasible, so if this allows them to concentrate on those who may need more thorough checks, instead of just random selections, I think it will be helpful."
Rajesh Kapur, 32, of Boston, said this program is unnecessarily separating people into different security standards.
"You never know who will end up being a danger," he said. "Ideally, there would be a system that would be both efficient and thorough, but since that doesn't exist at this point, it's more important to be thorough."