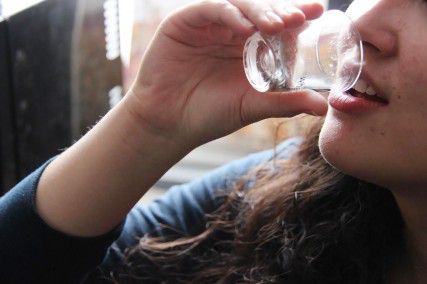 Boston University Police Department officials stepped up patrol efforts Friday and Saturday after 11 students were hospitalized for alcohol-related causes between Feb. 3 and Feb. 9.
"We usually don't see that high of a number [of hospital transports]," said BUPD Deputy Director of Public Safety Scott Paré. "That was very disturbing to the department. We're concerned for the health of our student body here. We just want to keep our students as safe as possible, and if we have to put some additional patrols out there, well that's what we did."
Officials were unable to determine what in particular may have caused the spike in student transports, Paré said.
"We couldn't really pinpoint the exact reason," he said. "We just saw that number get up that high and obviously we had to respond some type of way."
While the additional patrols target alcohol enforcement, BUPD strives to prevent all types of crime, Paré said.
"The additional patrols really serve to help increase the alcohol enforcement, but there's other concerns throughout Boston," he said. "There's the street robberies — we've been lucky we haven't had many in the area … Over in East Boston they've had some sexual assaults. Putting [out] the extra patrols is timely and effective for the university."
BU spokesman Colin Riley said several of the 11 students hospitalized were over the age of 21, which is unusual for hospital transports.
"The primary reason for these incidents, unfortunately, is that individuals and the people they are with are not exercising good judgment with regard to alcohol consumption," Riley said in an email.
In order to reduce alcohol-related risks, BU requires students to complete the online program AlcoholEdu as freshman, Riley said. In addition, more than 1,000 BU students participated in bystander intervention training this year.
"The most effective way to 'counter any increases in alcohol-related incidents among students' is for students to be responsible in the consumption of alcohol or other drugs and for students to take the lead both individually and collectively to prevent dangerous drinking and related behavior by themselves and those with whom they associate," he said.
Sargent College of Health and Rehabilitation Sciences sophomore Peter Park said while he has not noticed an increase in police activity, a greater police presence will likely be helpful in reducing alcohol-related incidents.
"If there's an increase in overdrinking and the police feel they need to step things up, that's probably for the best," he said.
College of Communication senior Jeanine Ilacqua said although she did not see an increase in patrols over the past weekend, BUPD's efforts are necessary.
"I've seen too many peers throwing up in trash cans or violently sick around campus," she said. "It's not right, and it's important for the BUPD to do what they can."
While an increase in patrols may be helpful in ensuring student safety, awareness is the most effective way to reduce alcohol-related risks, Ilacqua said.
"Increased alcohol awareness is always a good thing," she said. "The best way to prevent hospitalizations, in my book, is for kids to know their limits well enough to not exceed them."