To kick off Patriot League play, the Boston University men's lacrosse team will take on Lehigh University at Nickerson Field Saturday afternoon.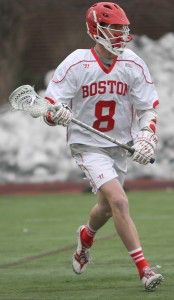 After losing their opening games to Mercer University and Canisius College, the Terriers (0-2), are looking to earn the program's first-ever victory as they enter Patriot League portion of the schedule.
Conversely, the Mountain Hawks (3-0) have opened the season on a tear, defeating Furman University, Marquette University and Villanova University and will be hoping to extend their winning streak.
Although the team has dropped its first two contests, BU coach Ryan Polley said his squad will head into the tilt with the Mountain Hawks with the same mindset.
"We're going to go into Saturday with the same mentality," Polley said. "We're just trying to get better every day and get better with every game After watching the film, we definitely got better in several aspects from the first game to the second game and we hope to continue to get better in all aspects. There are a couple areas where we weren't as effective."
A main source of the Terriers' struggles has been their inability to finish scoring chances. In its first two matchups, BU has had no problem generating shot attempts. The BU attack collectively outshot the Bears (1-2) and the Golden Griffins (1-0) 79-57. However, in both meetings, the Terriers struggled to finish their opportunities, and ended up dropping both contests, 17-6 and 9-3, respectively.
Polley said the lack of offensive efficiency could be attributed to the attack's lack of confidence in game situations, something he has tried to rectify during this week's practices.
"We've got to get a bit more confident," Polley said. "We've talked about that a lot in practice. We've shown film of where guys could possibly make plays or potentially make shots. We have a lot of young guys who haven't been able to experience success on offense.
"With every shot, our guys are just thinking too much. The looks are there, and the guys are athletic and they're skilled enough. When they play, they just need to actually do it. This whole week has been about building their confidence. We've scored goals before. We've done it in scrimmages and now we just need to do it when it really matters."
Freshman attack Pat Myers has been a bright spot for the BU offense, tallying two goals and two assists in the first two games. Freshman attack Cal Dearth has also added two goals on seven shots.
The Mountain Hawks come into Boston after narrowly defeating Villanova (0-1) in triple overtime, 7-6, last Saturday. The teams were tied at 6-6 at the end of regulation and the score stayed knotted up through two overtime periods. Junior Kurtis Kaunas finally broke the tie, scoring the game-winning goal with seven seconds remaining in the third overtime period to give the Mountain Hawks the victory.
Through three games, attack Reid Weber and attack Dan Taylor lead Lehigh in points with both tallying five goals and three assists. Weber and Taylor each notched two goals in the Wildcats.
BU will once again rely on freshman goalkeeper Christian Carson-Bannister and the Terrier defense to keep the high-powered Lehigh attack at bay. Carson-Banister has started both games for the Terriers and has posted a 44.2 save percentage, while holding a goals-against average of 12.89 per game.
In order to beat Lehigh and earn the program's first victory, Polley stressed the importance of playing a solid, poised and complete game.
"We want to play a strong game across all facets," Polley said. "From facing off, to our offense being more efficient, to continuing playing well defensively, to play well in goal to being disciplined and composed … We just want to improve and continue to get better as the season goes along. That's really important to us. As everyone gets better with more experience, we'll play our best lacrosse."