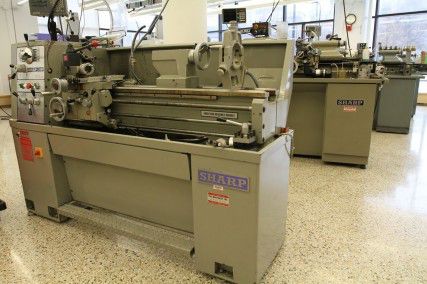 "Making stuff is cool."
So says Gerry Fine, director of Boston University's Engineering Product Innovation Center, where Wonka-esque pure imagination meets pragmatic, hands-on experience.
The Center, aptly referred to as the EPIC, opened its doors at 750 Commonwealth Ave. in January, and since then, officials and students have been hard at work putting its opportunities to use.
Fine described the premise of the EPIC as existing as three key parts: firstly, as a facility where College of Engineering students can get first-hand experience with design and manufacturing before graduating, secondly, as a "maker space" for the BU community where all students can create and finally as a central hub for student groups related to design and manufacturing.
"You can imagine that we have a variety of engineering classes that use the facility on an ongoing basis, everything from our sophomore design course to our senior Capstone project," he said. "All of our students are required to build stuff — this is a facility where they can build stuff if they so choose."
The interior of the facility is devoted to that process of building. A warehouse-like room on the first floor is filled with all of the manufacturing and engineering tools, including seven 3D printers, several mills, lathes and drill presses, a laser cutter and several multi-axis CNC (computer numerically controlled) machines.
Toward one side of the room is a fully automated manufacturing cycle, complete with robots and a conveyor belt, which is used for a class not offered during the spring 2014 semester. In another room, there is a complete woodworking shop, and in the back is a foundry where molten metals are shaped into useful forms.
"Most of this stuff has been selected so that it's pretty easy for students to learn how to use them pretty quickly," Fine said.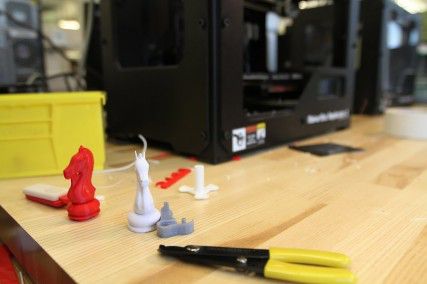 The 3D printers, six of which create plastic objects and one of which creates ceramics, are some of the most popular objects, Fine said. They are placed closest to the windows along Commonwealth Avenue, so it is not uncommon for passersby to gaze in through the floor-to-ceiling windows as the machines flash and churn away.
These printers are capable of producing tools with moving parts purely based on a computer design. Fine displayed two working adjustable wrenches and a toy car that rolls on its wheels, all "printed" with plastic from the machines.
The center is not exclusively for a niche of star science students, though — students from the School of Management and the College of Fine Arts also attend classes in the facilities.
"It's really as interdisciplinary and university-wide as it can be," Fine said.
Beyond academic courses, the EPIC offers its resources to any student with a creative idea and an entrepreneurial spirit.
"If a student in the university has an interest in an idea that they want to turn into a prototype or that they want to realize, our requirements are pretty simple: Go online and take the safety test, come in here with a sketch of what your idea is," Fine said. "We have a staff of five here and student workers all the time, so just go through the idea and the sketch with us and we'll tell you if it's possible to do."
And the center is growing. Even on the day of the tour, a new machine was being installed. Tech giants are joining in to support the EPIC in its goals.
"We're doing this all in close collaboration with regional industry," Fine said. "We have four industrial partners in EPIC: Procter & Gamble, PTC, General Electric Aviation and Schlumberger. There are a variety of other companies that have donated equipment to EPIC. For instance, Stanley Black & Decker just gave us a $20,000 of hand and power tools."
Fine said working with industry partners allows EPIC officials to ensure that students are learning skills and information that will be applicable outside of college, and that this in turn will make BU graduates more competitive in the job market.
"We believe this is a win-win for our students and for local industry," he said. "For local industry, we hear from them what they want us to teach our students. While we can't do everything they want, this helps us tailor our curriculum to meet industry needs. For the students who go through here, they are more desirable to companies, and hopefully we'll provide training to outgoing engineers in skills that industries want, therefore aiding everyone."
All parts of the engineering process are housed in EPIC, and this is what makes it unique: rather than simply giving students a taste of manufacturing, this center allows them to work through the entire process from design to prototyping to manufacturing to lifecycle management.
One of Fine's biggest messages was that manufacturing is an important aspect of engineering and that most stigmas attached to it are inaccurate and unjust.
"I think that many people believe that manufacturing is some sort of dirty, undesirable profession that is only conducted by grizzled old men in dank basements somewhere," he said. "One of the real points we're trying to make here is: making stuff is cool. I believe that manufacturing is a noble profession. It's not done in dark basements, it's done in high-tech labs."
Five students have the opportunity to work in the EPIC as employees, such as ENG senior Kiley Monahan, who helps classes in the center with their projects. She was working on one of the high-tech machines during the tour.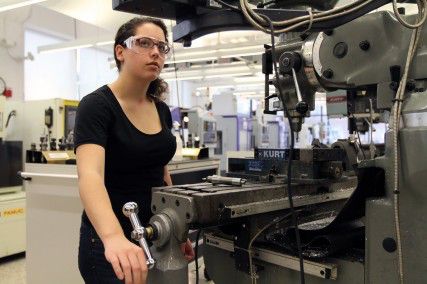 "There's a design and manufacturing class we all have to take as sophomores in the mechanical engineering major, and they produce projects, but they don't necessarily know anything about machinery, so we're there to answer questions, to consult people about their projects and to work on the machinery with them," she said in a later interview. "… We don't just do it for them, we do it hand-in-hand with them."
Monahan said she is excited by the opportunity to work in such a dynamic setting, especially because she is unable to experience first-hand this kind of work in most mechanical engineering courses.
"As an engineer, I feel that in classes, I learn a lot of theory and it's dull and boring," she said. "You want to be doing things, not just sitting there doing math problems all the time … I just want to build things. If you asked me why I want to be an engineer, I want to learn how to make everything. It's learning by doing while I'm working there [the EPIC]. Before we were learning from books, and it's nice to get my hands in there."
By the end of the spring semester, Fine expects about 600 students to use the facilities at EPIC. It will remain open over the summer for those enrolled in summer courses and will continue to establish itself as a key part of ENG's curriculum in the following semesters.
Monahan offered one simple piece of advice on the EPIC for all young and incoming engineering majors.
"Use it," she said. "Don't ignore it. Take advantage of it. If you have projects, go to the people and the machinists that work there. They have unbelievable, irreplaceable knowledge."
As we leave the tour, we place our required safety glasses on a table at the front of the center next to several dozen other glasses, and this seems symbolic: even at a slow hour of the day, the EPIC is stocked and ready to welcome scores of students in to think, design and make.