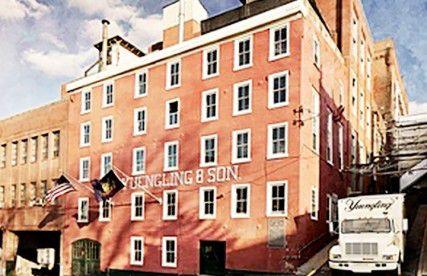 After a two-decade absence in Massachusetts, Yuengling beer finally returned to the Boston bar scene Monday.
While the beer was sold in Massachusetts for about a year, the company withdrew its products from the state in 1993 and has not distributed in the Commonwealth since. Now, the company will be distributing its three main products in Massachusetts: the Black and Tan, Light Lager and Yuengling Lager.
Jen Holtzman, marketing manager for Yuengling, said further expansion could be soon to follow.
"When the lager took off, we couldn't keep up with demand, so we pulled back, rather than being out of stock everywhere," she said. "Now, a lot has changed about the brewery. There've been a lot of upgrades that have increased our capacity and efficiency. However, the whole operation is still a lot smaller than you might think."
Founded in Pottsville, Pa., in 1829 by German immigrant David Yuengling, D.G. Yuengling & Son operates the oldest brewery in the United States. The company is one of the largest American-owned breweries in the world, but until now was mostly enjoyed only as a local favorite in Pennsylvania and other Mid-Atlantic states.
Holtzman said there has been an increase in popularity of flavorful domestic craft beers in recent years.
"The market has changed immensely," she said. "What makes Yuengling particularly favorable within the craft market is both its affordability compared to other, pricier craft beers, as well as its reputation as a longstanding family-owned brewery."
Many local bar owners said they also see the benefits of a beer that matches flavor with affordability, and look forward to adding Yuengling to their existing selections.
"It's priced the same as some of the more 'economical' beers like Coors Light and Bud Light," said Joshua Schultz, location manager at the Boston University Pub. "Yuengling's price, combined with its better quality, makes it a very desirable beer in the eyes of many consumers."
Although he does not expect that making Yuengling available as a draft beer at the BU Pub will greatly increase sales beyond a "slight bump" immediately after its arrival, Schultz said he expects bar patrons to be quite happy with its return.
"It's not like people will be coming here just because we have Yuengling, but it may keep the people here that would've gone somewhere else if we didn't have the beer," he said. "We don't want to be the only bar in town that doesn't have Yuengling."
Many Boston residents said they are looking forward to the beer's arrival as well.
Jessi Eiras, 28, of Charlestown, said that she has not tried Yuengling due to its previous unavailability, but she will definitely be trying it now that it will be available.
"I've heard it mentioned from a few of my friends and co-workers, some of them have even brought it back home from vacation because they like it so much, so I'm sure they are excited it will be available here," she said.
But not all in Bostonians feel Yuengling's return warrants the excitement. Valerie Pasquarella, 43, of Brighton, said she does not think the hype is justified.
"People want it not because it's the greatest lager of all time, but rather because they can't get it anywhere, anytime, like most beers," she said. "Once you remove the distribution limitations that have historically bolstered Yuengling's popularity, you're left with an okay beer."