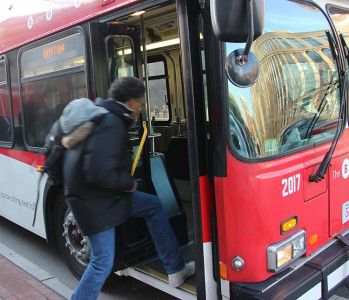 In response to concerns from students and faculty about non-Boston University affiliated people riding the BU Shuttle, Parking and Transportation Services announced that BU IDs will be required to board buses beginning Tuesday.
To keep the buses running on time, signs to remind potential passengers that the BUS is a service only available to the BU community and staff members will check for identification before the bus arrives, said William Hajjar, director of Parking and Transportation Services.
"The cost of providing the BUS service is substantial, and we have a responsibility to make sure that as much of the BU community gets to make use of the BUS service as possible," he said. "To date, active enforcement has not taken place. The only way to get a sense of the volume of unaffiliated passengers is to take some action. We will have a better sense of the degree of the problem after these enforcement steps are in place."
The BU Shuttle's ID requirement will begin with random checks by shuttle bus drivers and checkpoints at high volume stops, Hajjar said.
"We have chosen a random check for ID's approach as it would otherwise be impossible to maintain the current shuttle schedules … which count on timely passenger ingress and egress, especially at high volume stops where all doors are in operation," he said. "[This screening is] similar to what the Massachusetts Bay Transportation Authority does at the high volume above ground stops of the B Branch [of the] Green Line subway."
BU spokesman Colin Riley said the BU Shuttle's purpose is to transport students and faculty between the two campuses — Charles River and Boston University Medical Campus — rather than up and down Commonwealth Avenue.
"The first thing is that the Charles River Campus is a walking campus," he said. "If you're waiting for a shuttle for more than 10 minutes, you probably can make it to your destination more quickly than if you started walking unless you're on the extreme ends of campus."
Several students said while they are concerned by the delays ID checks might cause, they understand why BU officials implemented the policy.
Victoria Wasylak, a freshman in the College of Communication, said restricting shuttle services to the BU community is good for those who pay and rely on its services.
"We're the ones paying all the money and the shuttle is a part of tuition fees," she said. "It's not fair if other people are using it. … The school doesn't want people to take advantage of the system. It makes students feel cheated because those people are not paying $60,000 a year."
Fritz Howser, a College of Fine Arts sophomore, said the policy might be too extreme an answer for a small problem.
"There had to be a massive influx of random people getting on and taking seats away from students, but I doubt it," he said. "I hardly see this and don't think it's a big deal."
School of Management junior Chris Yang said the policy addresses safety concerns for faculty and students.
"I think it has to do with public safety," he said. "The Provost recently sent an email about sexual misconduct and rape. That and the changes could be things that are working in parallel."
Alexandra Raman, a junior in COM, said Parking and Transportation Services should address more pressing problems with the BUS instead of dealing with the smaller issue of ridership.
"I wish that they would invest time in figuring out a system to get more buses especially during winter," she said. " I signed a petition for it. It'd be a better way to spend time instead of making sure that a few people aren't on the shuttle."