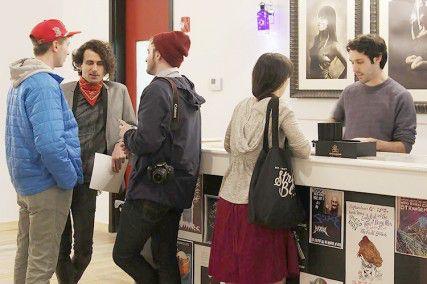 Nick Grieco has always been a musician. Growing up in a musical family in Farmington, Conn., he had a cello in his hands at age 4 and a passion for punk rock by his teenage years. Music has always been the plan, but how it manifested itself changed with time and hiccups.
"It's almost something I take for granted," Grieco said, shaking his head.
A Berkelee College dropout, producer and guitarist for punk-rock band The Field Effect, former producer with So I Heard House of Music and notable face around the Boston music community, Grieco is in a long-term, committed relationship with rock 'n' roll. And with his latest project, the showcase room Allston Rock City Hall at Studio 52, he's keeping the spice alive — even through the speed bumps.
Allston Rock City Hall was thrown into Grieco's lap after he developed a relationship with Studio 52, a practice space for artists within the Allston community. Studio 52 looms large, cold concrete halls lined with band posters and stickers. At the entrance and through a hallway or two hides ARCH, an intimate, unassuming room with glass bottle light fixtures encasing curling lights, pieces by local artists lining the walls, a bar in the corner and a stage. The room is quiet, but it won't stay that way — Grieco has big plans for the venue.
"I want it to kind of be a space where we can create a really unique experience," Grieco said. "I want it to be a showcase room for national acts. I am very much focusing on the local scene, but … I want there to be a sort of exclusivity to the room, so that when there's a VIP, RSVP-only event that's going on with some big, national act, we can automatically know we can fill a room, and then the next day have four acts from around the corner play here. I want a balance. I want the room to basically do anything, and I designed it to be flexible in that sense."
The bar in the corner is empty — intentional, said Grieco, although ARCH isn't going to stay dry. He said he hopes to throw BYOB shows in the future, where guests can check bottles of alcohol. That way, patrons can visit the bar throughout the night without spending the classically inflated price of venue drinks. ARCH will also host sponsored events by local breweries, with free tastings accompanied by music and art.
Allston Rock City Hall was supposed to open its doors to the public Saturday, for a nine-artist gallery opening and after party with local bands and beer and liquor tastings. The event was set to start at 4 p.m., until a complication involving permits shut it down before it even began.
Grieco is working to solve the issue and reschedule the grand opening and is far from discouraged by the setback. In fact, a setback helped him land the ARCH management gig in the first place.
"A couple summers ago, I had a couple of really [expletive] roommates who decided to not pay rent for four months, and I had no idea," Grieco said. "So the 48-hour eviction notice landed on my doorstep and kind of uprooted everything in my life. … At the same time, [The Field Effect] was going full-throttle and I had every reason to be in Boston. I had no intention of leaving, but I did have to temporarily go back to Connecticut, which was really hard because I never want to live there ever again."
Grieco started commuting between Studio 52, where his band rehearses, and Connecticut. He was in "crisis" when he decided to ask the director of operations, Glenn Michael, if he could help around the space, hoping to make some money to move back to Boston. He started working at the front desk and developed a relationship with Michael, until he finally offered Grieco the chance to manage Allston Rock City Hall.
"Like the space, when you have a limitation it allows you to create something new and refreshing," Grieco said. "… I really have put a lot of work into creating this entity here that I really want to stick around here and see this through."