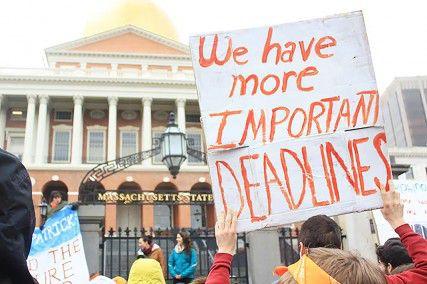 Hundreds of high school and college students, including activists from Boston University, left their respective schools Monday and assembled at the Massachusetts State House to protest investment in the fossil-fuel industry.
During the Youth Walkout for Climate Change, a delegation of students entered the statehouse and scheduled a meeting with Massachusetts Gov. Deval Patrick to discuss a ban on new fossil-fuel infrastructure.
"Climate change is something that is becoming the defining issue of our generation," said John Griese, a College of Engineering junior who helped organize the protest. "This campaign has been going on for eight months, and they haven't been able to get a meeting from the governor's office. Even the threat of all of the students coming and mobilizing at the statehouse like this was enough to get them to capitulate."
Griese and other student activists from climate advocacy groups Students for a Just and Stable Future and 350MA, a climate advocacy group, coordinated the rally, drawing several speakers to the statehouse and leading protestors in chants championing sustainable energy efforts.
"You don't have the luxury of only facing the parts of the climate crisis that are convenient, or the parts that are politically expedient," said climate activist Tim DeChristopher, a Harvard University student who spoke to protestors over a megaphone. "If politicians like Deval Patrick claim to be on our side, claim to be an ally of the youth and claim to be a climate champion, he doesn't get the luxury either of only tackling the parts of the climate crisis that are convenient."
Student activists in SJSF and 350MA are pushing Patrick and other Massachusetts legislators to follow through with the Global Warming Solutions Act passed in 2008 with the goal of reducing greenhouse gas emissions 80 percent by 2050.
ENG senior Colby Smith, a member of BU's SJSF chapter, said she attended the protest not to criticize Patrick, but to show support for the governor.
"He's been a great climate advocate, he's done really great legislature, but he's still not doing quite enough," she said. "As young people, this is our problem. As a legislator, as someone who supports what we are trying to do, he should show that."
SJSF's campaign includes encouraging Patrick and his fellow legislators to ban coal, tar sands oil and gas fracking in the state, to build clean energy infrastructure and to create a carbon-pricing system that allows Massachusetts residents to live sustainably, SJSF representatives said.
Sophie Sokolov, a senior at Newton North High School who personally requested a meeting with Patrick from his Chief of Staff, has been involved with SJSF for more than half a year.
"Climate change as a global issue is an unprecedented catastrophe," Sokolov said. "We have a lot of faith that Patrick will be able to see the moral imperative here."
Caroline Birsner, a College of Arts and Sciences junior, protested as a member of SJSF and DivestBU, a student group dedicated to discouraging BU from investing in the fossil fuel industry.
"As young people, we have the biggest stake in making sure that climate legislation gets passed," she said. "Since it's not getting passed at the national level, states really have the power to make it happen."
Birsner said although Patrick's climate change platform is promising, a discrepancy exists between his agenda and what he is currently accomplishing.
"The fact that we weren't here for very long until the governor agreed to set a meeting with us speaks to the fact that he's very receptive to this message," she said.
Griese said SJSF hopes to continue to put pressure on Patrick through support from the students who attended Monday's protest.
"We have a national network of climate activists and they are all going to start converging, turning their gaze to Massachusetts and turning their gaze to Gov. Patrick," he said. "We're going to let him know that the youth around the nation are watching him, and that we hope he makes the right choice."